After passing the MVPI test, you can check the Fahas validity online in Saudi Arabia through the Absher account. 
MVPI = Motor Vehicle Periodic Inspection.
What is the validity of Fahas?
It is important to note that the validity of the Fahas or MVPI certificate is one Hijri year i.e. around 355 days. It means that if you have passed the test on 20 Jan 2XX1, the certificate will remain valid until 10 Jan 2XX2.
Check Fahas validity online
In order to check Fahas validity online in KSA with Absher;
Login to your Absher account

 

https://absher.sa
Click on the "Vehicles" tab.
Select "Vehicles Management".

Select the vehicle and scroll down until you check the Fahas expiry date.

The inspection expiry date on this screen shows the Fahas validity date.
Fahas for the brand new cars
As per Article 26 of traffic rules, the Fahas of brand new cars is required after 3 years of registration.
Therefore, if you try to check the Fahas validity of a new car online in KSA, the Absher account will show a blank space in front of the Inspection Date.
Check Fahas validity on the paper
In case you are not able to check the Fahas validity online, you can find it written on the Fahas certificate as well. It is written just below the header in Hijri calendar.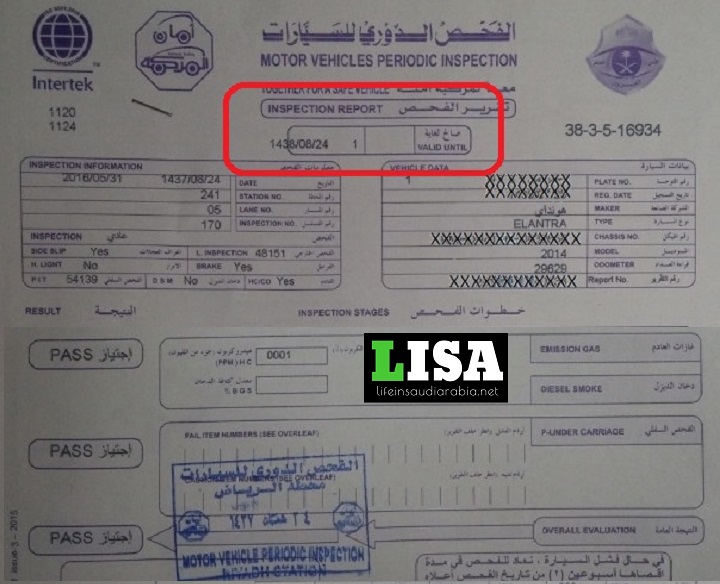 Why do we need Valid Fahas?
A valid Fahas or MVPI is required for the following purposes;
To avoid SR 150 fine.