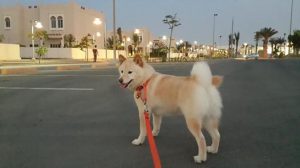 In case a pet is to be taken in or out of Saudi Arabia, proper formalities and procedures have to be followed. The procedure comprises of several steps including registration, medical test and payment of charges, and other related issues have to be resolved. First of all the thing is that specific breeds are not allowed to take in or out of Saudi kingdom. There is also a need to fulfill documentation requirements before taking pets out of Kingdom. We have already explained the procedure of bringing pets into Saudi Arabia in this article. "Bringing Pets in Saudi Arabia"
Required Documentation: Following documents are required in order to take pets out of Saudi Arabia.
Pet registration document: this is also termed as a passport of a pet in common terms. It carries complete purchase, medication and vaccination history of pet.
Identification and removal of microchip implantation: As pets are not legally allowed in Saudi Arabia commonly as before they are allowed to take in a microchip is inserted in them. This is done on special veterinary clinics. At the time they have to take out of state these chips have to be removed.
Veterinary health certificate: Before getting out of the country, a pet requires a veterinarian health certificate approved by a registered veterinary clinic. This certificate has to be taken before not more than thirty days of leaving the Kingdom for another region. Some airlines give relaxation of just 10 days prior certificate.
Export permit: there is a need to get an export permit for a pet from the ministry of agriculture. This permit serves as a permission certificate for taking the pet out if territory. A passenger has to take precautionary measure according to the terms and conditions of a country, in which one wants to take his/her pet. Proper documentation and rules criteria have to be followed according to pets rules in different regions of world i.e Europe, America, Canada, Australia etc.
Keeping pets in Saudi Arabia is not that much easy as in any other country of the world. Islam prohibits dog's adoption inside the home. Even warnings have been pronounced regarding this act in Islamic literature. Due to this fact, Saudi Kingdom is not an animal-friendly state. Some other pets besides dog are also in trends like cats, horses, and birds but the main icon of a pet is a dog. The reason of this might be a dog's faithful nature or influence of western culture. In Saudi Arabia, varied opinion is adopted regarding this topic. Some people promote pet culture and some are totally against it. Beside this general public opinion, the government has also set specifics rules and regulations in this regard.
As pet culture is not that much appreciated by Kingdom people has to be cautious while carrying on this activity. A single careless act may result in serious consequences.  In Saudi culture, before one buys a pet, the caste and history of a pet are examined carefully. This status consciousness is very common in Saudi people. They see for blue blood animals even in the case of buying a pet.