"One of my colleagues has shared this procedure with me. In fact, he wrote this whole article." I appreciate the step taken by the Pakistan Consulate Jeddah by introducing the system of scheduling appointments online for passport renewal.
Last year when I went to Pakistan Consulate for the renewal of my wife's passport I had to spend a full day in the queue waiting for my turn. It was too crowded and behavior of officials was also very disgusting.
But I am talking about the time when Procedure to get an Appointment in Pakistan Consulate Jeddah for Passport Renewal was not launched.
Now with the introduction of this system, at least you get an appointment and you don't have to wait a lot for your turn. If you want to renew your passport, now you need to take an appointment with Pakistan Consulate Jeddah first.
I will describe step by step procedure to book an Appointment with Pakistan Consulate in Jeddah for Passport Renewal below.
First, you need to open the website of Pakistan Consulate Jeddah. The link of that website is here http://202.83.172.66/app/jeddah2//
Once the website is opened, you need to look for a link to "Online Appointment System" from the links given on the left side of your computer screen.
A new page will open where you have to choose "Passport" in the first tab and "Consular Services Jeddah" in the second tab. After selecting this data, just click on the "Next" button.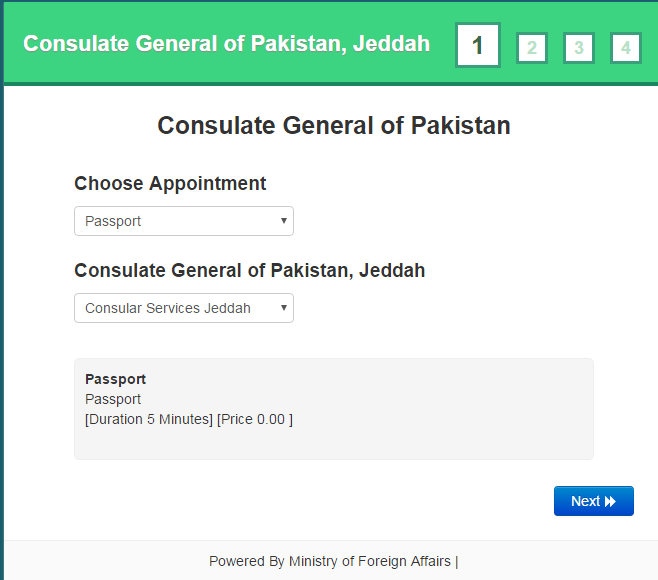 In the next window, you will have to select the date when you want to take an appointment. In case, no appointment available on that date, following message will appear on your computer screen.
"There are no available appointment hours for the selected date. Please choose another date." If appointments are available, different timings will appear on your screen from where you can select your desired timing.
In the next step, you will have to enter all the related details e.g. First Name, Last Name, Address, City, Phone Number and Email Address and click on the "Next" button.
In the next step, you will have to just confirm the date and time of appointment. You will be sent an email to the email address provided.
Make sure you carry the print of that email to the consulate office on the day of the appointment. Try to be there at least 15 minutes before the appointment time.
You can also call them and book an appointment with them. The phone number to book appointment is 0126692371, 0126691046, 0126691047, 0126691051.