GCC residents, Saudi Iqama holders, and people who enter Saudi Arabia on a family visit visa can apply for a Bahrain e-visa online.
Who should apply for an online visa?
The following people should apply for a Bahrain online visa;
GCC residents with unsuitable Iqama profession to get an on-arrival visa.

Family Visit Visa holders of GCC residents.
Requirements
The following are the requirements to apply for a Bahrain e-visa online;
Iqama Holders
A passport with at least 6 months validity.

Copy of the passport page with GCC entry stamp.

Copy of Iqama.

3 months Bank Statement with at least SR 3,000 closing balance.

Hotel Booking.

A letter stating that you are a GCC visitor coming with your sponsor via King Fahad Causeway, hence there is no Air Ticket.

Debit/Credit Card to pay the fee.
Add: Family Visit Visa
Multiple Family Visit Visa stamped on passport.

Signed copy of the family visit visa.

Sponsor's Iqama.
Apply for Bahrain Visa online
Step 1: Residental Status
In order to apply for a Bahrain visa online;
Current GCC Permit?

Yes.
Select the country: Saudi Arabia.
Purpose of Visit: Tourism.
Detailed Purpose: Exhibition.

Select your Nationality.
Step 2: Type of Visa
Now you need to select the type of visa you want to apply for;
Family Visit Visa holder = Vist Single Entry.

Iqama or GCC residence permit = Visit – Single ENtry (GCC).
Step 3: Visa Form
On the next page to apply for a Bahrain e-visa online, fill out the visa form as per your passport.
Step 4: Attach Documents
Now on this page, you need to attach the following documents;
Passport copy.

Return Air Ticket: Visit Visa Copy if traveling by road.

Bank Statement with a minimum balance of SR 3,000. You can attach the bank statement of your Iqama holder sponsor.

Signed Letter: Visit Visa copy signed by the applicant.

Hotel Booking.

Other: Attach sponsor's Iqama.

Other: Attach Schengen, UK, US Visa on your passport (if any).
Step 5: Submit another Application
If you are a group of family members traveling together, it is better to apply for visas together. In order to do so;
Click on "Submit another Application".
Follow the entire process from Step 3 as explained above.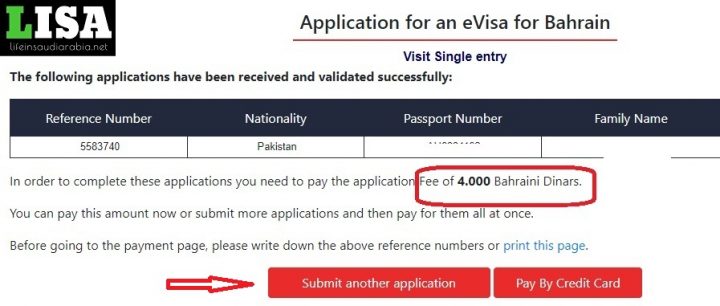 Step 6: Pay the fee
At the final stage of applying for a Bahrain e-visa for GCC residents, you will have to pay the fee;
BD 4 upon submission of documents.

BD 8 upon approval of the visa. 

Total Fee: BD 12 or SR 120.
Keep in mind that the payment of an application fee does not guarantee approval of a visa. Holding a visa does not guarantee your entry to the Kingdom of Bahrain.