Imam stands in one of the 3 places in Masjid al-Haram, Makkah in a way that sometimes people who follow him stand ahead of him.
No Salah ahead of Imam
As a general Islamic principle, you cannot offer Salah in congregation ahead of the place where Imam is standing.
This is the reason, there are boards placed in Masjid al-Nabawi for worshippers not to pray in the area shown in the picture below ⬇️ as when you stand here, you are standing ahead of Imam.
Imam standing in front of Kaaba
In order to lead 5 fard prayers, Imam generally stands just in front of the door of the Holy Kaaba in Masjid al-Haram.
When Imam stands near the Holy Kaaba, worshippers are allowed to stand anywhere in the Masjid to pray behind him and their Salah would be acceptable.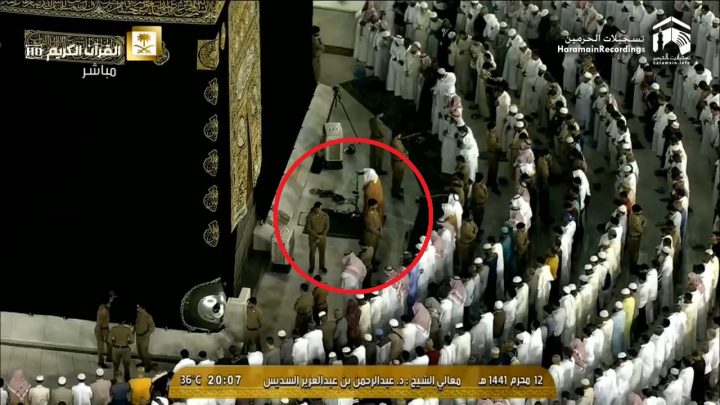 Imam standing behind Mataf
Sometimes, you might have noticed that there is some empty space in Mataf while the fard prayer is going on. It is because the Imam is standing behind the Mataf area in Masjid al-Haram.
As you cannot pray ahead of Imam, the area is left empty. However, people can still pray in Mataf in other directions while the Imam is way behind them which seems to be an exception to the rule we explained in the beginning.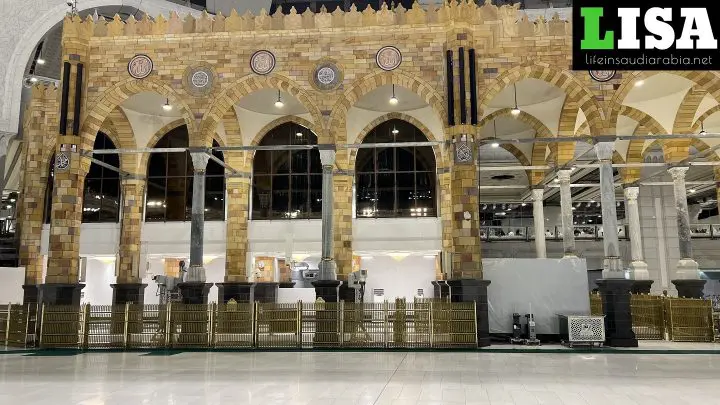 There is a place opposite to wall of the Holy Kaaba between Rukn Yamani and Hajr-e-Aswad where the Imam stands in Masjid-al-Haram to offer Fard Salah.
Imam standing during Taraweeh
You might have noticed that during the Taraweeh prayer, no one prays in the Mataf area as it is kept for people who want to perform Tawaf.
The Imam stands behind the Mataaf area for Taraweeh prayer in Masjid al-Haram but the place is not designated and keeps on changing every day.
Therefore, you should not pray the Taraweeh prayer in the Mataaf area as in case you are ahead of the Imam, your prayer is not performed.