Al Namas and Tanomah are not frequently visited by tourists in Saudi Arabia as they don't know the places to visit, tourist attractions, and things to do here. 
What is the best time to go?
The weather in Al Namas and Tanoumah remains pleasant throughout the year so you can pick any part of the year to pay a visit to these places. It is most recommended during winter.
Al Meger Tourist Village / Al Namas castle
If you have limited time and can spare only a few hours in Al Namas, make sure to visit Al Meger Tourist village/castle because;
It took 35 years to build the palace.

16 million Islamic decorations in the palace.

It has 20 gates (not all open for tourists).
The castle is located on the highest point of the Al Namas region and provides an exotic view of the whole area.
Entry Ticket to Al Namas Castle: SR 20/person.

Al Meger Tourist Village Timing: 7:00 am – 7:30 pm.

Al Maqar Palace Loctaion.
Sadraid Mosque
Sadraid Mosque built in 787 AD is the oldest mosque in the southern region of Saudi Arabia and a must-visit tourist place visit in Al Namas.
Sadreed: 1200 Years old, the oldest mosque in Southern Saudi Arabia
Read: https://t.co/NfQ2IWXBen pic.twitter.com/14OJuQqOXT

— Life in Saudi Arabia (@LifeSaudiArabia) July 20, 2018
The mosque has been newly renovated before which it used to look like the pictures we have shown above.
Tanomah Waterfall
While visiting Al Namas, you cannot miss visiting the tourist attraction called Tanomah Waterfall.
It is actually an artificial waterfall in Tanomah but an associated small park and some rides for children make it a stop-over point for some time.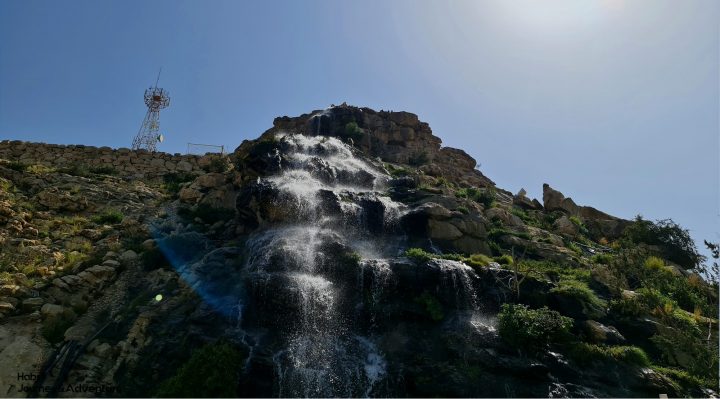 Dar Dahdooh
Dar Dahdooh located in Tanomah and only 30 mins drive from Al Namas is another worth visiting tourist place. However, keep in mind that the place remains open only 4 hours a day for tourists.
The honor of the place is Uncle Dahdouh who welcomes everyone with an open heart, tells stories, and offers Qahwa.
Dar Dahdooh Location.

Dar Dahdooh Timings: 7 am to 11 am.
Souq Habasha (Islamic Site)
Souq Habasha is the place where Prophet Muhammad ﷺ used to manage the trading activities of his wife Khadija رَضِيَ ٱللَّٰهُ عَنْهُ and hence people coming to Al Namas and Tanoumah should visit it.
There are certain monuments still present at that place that refer to the era of prehistoric Islam.
King Fahd Dam
Around 175 kilometers from Al Namas, lies King Fahd Dam, the largest dam in the Kingdom of Saudi Arabia with a height of about 103 meters and 507 meters. If you visit this dam, make sure to visit the historical town of Bisha.
Nothing much to do at the dam except watching mother nature.

Requirement: 4X4 car.

King Fahd Dam Location.
Other Places
In addition to what we have explained above, there are numerous mountains, parks and other places which tourists want to visit. We have listed them down below along with their google maps location.
Tourist Cities