The beautiful city of Jizan located only a few kilometers from Yemen is full of natural tourist attractions and places to visit.
What is the best time to go?
The weather in Jizan remains extremely hot and humid throughout the year except for 4 months i.e. from November to February. Therefore, if you are planning for Jizan, do visit these places.
Fayfa Mountain
On a drive of 2 hours from Jizan, lies the spectacular, mesmerizing Fayfa mountain which is the most visited tourist place in the region. People who live at Fayfa mountain are called the neighbors of clouds.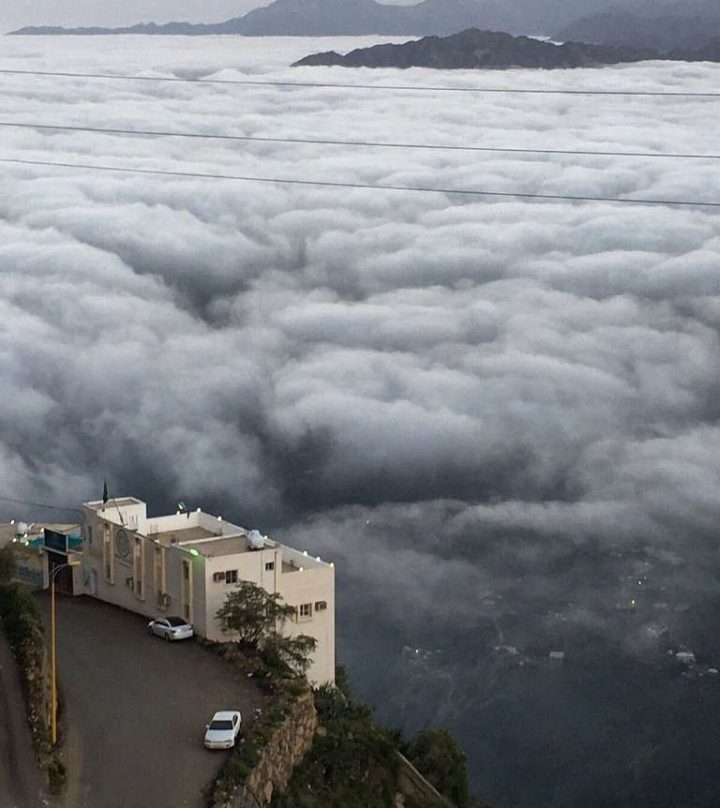 If you visit Fayfa mountain during Eid Holidays, do not miss the chance to offer Eid prayers at this mosque. I am not sure about the exact location of this Masjid, but you can ask the locals about it.
Qayyar Village
If you want to see heaven on earth, visit the most beautiful tourist place in the Jizan region called Qayyar Village. The place is located at around a 1-hour drive from Fayfa Mountain and a 2-hour drive from Jizan.
The road to Qayyar village is quite steep and therefore, a 4X4 vehicle is a prerequisite to visit this place. The below video explains
Hot Water Spring
The hot water spring is situated around 60 km from Jizan and it is believed to cure many skin-related diseases. You can visit this tourist attraction on the way back from Fayfa mountain in Jizan.
You can sit inside the water sprint with a water temperature of around 45°C and 14 different chemicals at work. 
Wadi Lajab
Wadi Lajab is the most serene place and one of the most beautiful and green tourist places to visit in Jizan. It is an excellent hiking place, surrounded by mountains and a water stream that in some places gets bigger and in some places disappears.
It is better to visit Wadi Lajab early in the morning as it is at a distance of around 2 hours drive from Jizan. It is better to avoid Wadi Lajab during the rainy season.
Jizan Heritage Village
If you want to travel into the past to see how life was centuries ago in this region, visit the tourist attraction called Jizan Heritage Village. It is a beautifully maintained and clean village where they have kept all kinds of properties used by the old days people.
Turks Castle
Turks Castle is a centuries-old building built during the time of the Ottoman Empire to guard this area. The last time I checked, this beautiful archeological and historical place was closed for tourists to visit in Jizan.
Nevertheless, the area around Turks Castle provides an exotic view of the city of Jizan. Therefore, you can visit this place to hang out during the evening time.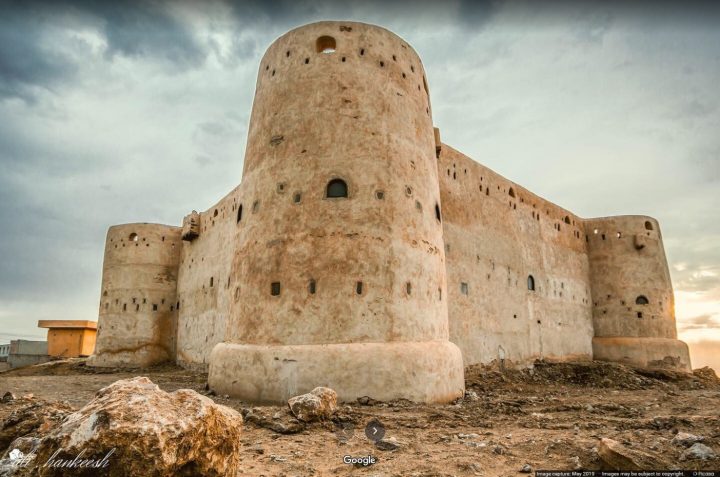 Awqat Saeeda Theme Park
There is a beautiful theme park along the beach in Jizan which you should visit especially if you are traveling with children. Children can enjoy rides and the playground at Aqwat Saeeda Theme Park at a cheap price.
Farasan Islands
Around 40 km from Jizan, you will find 80 Farasand Islands out of which only 3 are inhabited. If you ask me to choose the best tourist place to visit in Jizan, I would pick the white sand Farasan Island. Here you will see wonderful coral reefs, enjoy diving, snorkel and many historical sites.
Scuba Diving 
If you want to see the aquamarine sealife of the virgin and untouched waters of Farasan Island and Jizan, you should try scuba diving. The diving master Yahya Kubaishi understands and removes all the fears of tourists before taking them on the journey of exploring sea life.
Al-Qassar Heritage village
Al-Qassar Heritage Village located at the Farasan Islands is a centuries-old sandstone village that dates back to the Romans, known for its abundance of palm and perennial trees, freshwater wells.
Al-Qassar was originally established as a summer resort, and its residents built their homes in an orderly manner, with 400 houses. Tourists love to visit this renovated heritage village during their trip to Jizan and Farasan Islands. 
Beit Al Refai
Beit Al Refai was owned by a pearl merchant Munawar Al Refai is built with coral stones and features intricate carvings on its gypsum walls. Tourists cannot miss visiting this place on their trip to the Farasan Islands or Jizan.
North Corniche Park
The Jizan Municipality has developed a beautiful park alongside the beach where you can visit along with your children. When the weather is good, a walk in the park while you can feel the cold sea breeze is worth experiencing.
There are also small rides where your children can enjoy and some restaurants as well. You will also find people renting sofas and chairs there.
Kadi Mall
If you are in the mood of shopping, visit Kadi Mall or Rashid Mall in Jizan. You will find many brands, clothing outlets, a children's play area, and a food court at both the malls.
Hareed (Parrot) Fish Festival
Every year in the middle of April, Al Hareed Fish festival is organized by the governate of Jizan at Farasan Island. Hundreds of people participate in the festival and the top 10 people who catch the most fish are awarded by the government.
In case you plan to visit Jizan during the month of April, make sure to visit this place and participate in the festival.
Tourist Cities