Hail is full of beautiful landscapes, deserts, greenfields, and many tourist spots and places to visit.
Hail is famous for its agricultural products like wheat, barley, vegetables, and fruits. Here are some places to visit in Hail.
Hail Car Rally
Since 2006, the biggest car rally of Saudi Arabia is being held at Hail once a year. If you are a cars lover tourist, make sure to visit this place in Hail during the car rally days. You can search 
Al Samra Mountain
Jabal Al Samra is a beautiful mountain with an exotic view of Al Samra Amusement Park from the top. There is a large wide garden, restaurant, cafe, and many kids gaming and activities like an artificial lake and a small zoo. Everyone coming to Hail with their family should visit this tourist spot.
Al Rajhi Mosque
Al Rajhi Mosque is the landmark of Hail just like the Kingdom Center for Riyadh and Burj Khalifa for Dubai. With the Turkish style of construction, beautifully decorated interior, and exterior, it is indeed one of the best tourist places to visit in Hail.
Al Qishlah Palace
Al Qishlah palace was built in 1943 by King Abdul Aziz to be used as a military barrack. The palace has 142 rooms and two gates that open on the East and Southside. A tourist who is interested to know Saudi history should visit this spot in Hail.
Aarif fort
Aarif fort was built in around 1785 A.D with mud and clay and standing strong for around 240 years. The watchtowers are the Aarif fort provides an exotic view of the city of Hail due to which tourists love to visit this place.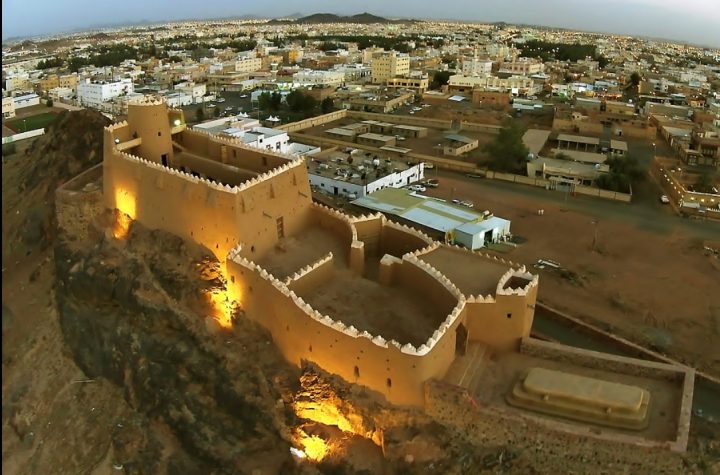 Jubbah Rock Art
Jubbah is an ancient city situated only 90 km away from Hail and a must-visit place for history and archeology lovers. Evenings will be better to visit the place as there is no place to hide from the heat.
Hatim Tai Grave
Hatem Tai who is known for his generosity died in 578 just after 7 years of the birth of Prophet Muhammad ﷺ. Tourists hailing towards Hail love to visit the Hatim Tai grave and the castle built around it.
Hatim Tai Gave Location.
Wells dug by Jinns
There are around 300 wells in the village of Linah, Saudi Arabia which were dug by the Jinns under the authority of Prophet Sulaiman عَلَيْهِ ٱلسَّلَامُ.
The village of Linah is situated almost 300 km from Hail towards the northern border of Saudi Arabia. Out of 300 original wells dug by Jinns, 20 are still intact.
Grand Mall
While roaming around, if you are in the mood of shopping, the place to visit is Grand Mall in Hail. It is the biggest mall in Hail with very affordable brands. There is Othaim Market as well from where you can buy grocery stuff.
Lavera Amusement Park
If you are in Hail with your family, you cannot miss visiting the place called Lavera theme park. It is probably the only theme park in the city of Hail and your children are going to love it.