Abha, with an elevation of 2,200 meters above the Red Sea, has so many attractions, tourist spots, places to visit, and things to do that you need weeks to explore.
What is the best time to go?
The weather in Abha remains pleasant in the spring, summer, and autumn but avoid going there in winter as it gets too chilly.
High City
The newly developed High City built at Asir National Park is one of the best tourist spots to visit in Abha, where you get swarmed by clouds and which feels magnificent.
The restaurants at the location charge obnoxiously high rates but the place doesn't require you to stay way too long. You can enjoy a valley view from the other side of the High City.
Green Mountain
The iconic Green mountain of Abha provides an exotic view of the city; therefore, you should visit this place in the evening and stay until night. The only way to reach the green mountain is by cable car, with around 20 mins ride. 
Jacaranda trees
Abu Kheyal Park is another good place to visit in Abha, with a high point and a panoramic view of the city. So many Jacaranda trees in Abha color the park with purple blossoms, especially in Spring.
Art Street
If you are a tourist who wants to enjoy the vibrancy and charm of Abha, visit the place called Art Street at night time. You will find Jacandra trees on both sides of the street but make sure to come during the spring season. 
Joy Venue
The Fog Walkway is also called the Corniche of Abha, where most famous pictures with clouds are taken. At this place, you can find the most scenic restaurant in Abha, Joy Venue. 
It is a great tourist attraction of Abha, and when the weather is correct, you will feel like walking on the clouds while on the fog walkway.
Sitting on the glass floor of the restaurant gives you a feeling that you are sitting in the air. 
Shamsan Ottoman Castle
Shamsan Ottoman Castle is located a 10 minutes drive from Abha city center; therefore, you should visit this tourist spot.
However, the place is a total disappointment for history lovers as it has not been preserved as it should have been.
Abha Lake Viewpoint
If you want to take some pictures of Abha Dam, the lake view is the place to visit during day time. You can also come here to capture the sunset view, but it is not a place to go at night.
Souq al Thulatha
If you want to buy some local jewelry or souvenirs, make sure to visit the place called Souq Thulatha (Tuesday Market).
You will feel the Asir culture and find traditional clothes, spices, honey, and other local stuff.
Al Rashid Mall
If you are still not tired of visiting the tourist attractions of Abha, head towards Al Rashid Mall. It is the newly built biggest shopping mall in Abha with a fantastic food court, bowling, cinema, and rides for children.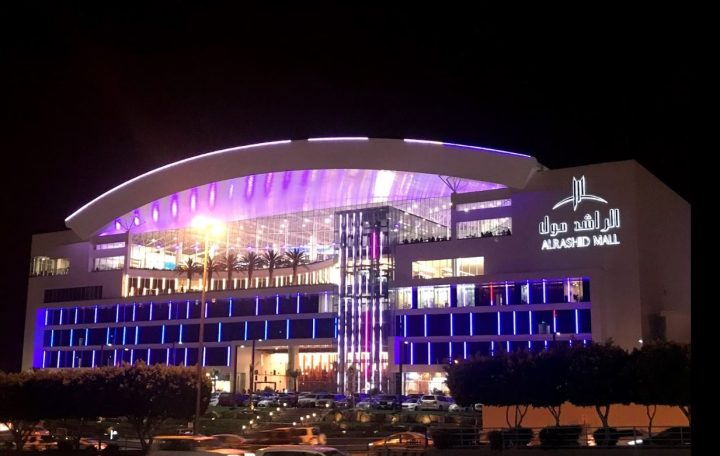 Cat Castle
If you are going to Abha with your children, Cat Castle is a place you should not miss to visit. There are around 20 fluffy beautiful cats inside the castle roaming around, and you or your children can hold any of them and take pics.
Black Box
Head to the staple Abha hangout "Black Box" to feast your eyes on the colorful buildings and enjoy the delectable coffee and excitement that awaits in Khamis Mushayt.
There is indoor and outdoor seating for the cafe, air games for children, horses, and duck driving games in a swimming pool.
Boulevard
Feeling hungry? Head towards Boulevard in Abha to shop or have a coffee in a beautiful environment. Beautiful fountains in the middle of the boulevard play a fountain show every 30 minutes after sunset. You will find the wealthy class of Abha at this place.
Rose Garden
If you are looking for a place to relax in the beautiful vicinity with red roses aroma around, visit Rose Garden in Khamis Mushayat near Abha.
Al Shahab Park
Al Sahab Park is located before Jabal Soudah if you are coming from the Abha side. The upside of the park is called clouds corniche, and the downside has the market and huts, including playing instruments, are called Al Sahab Park.
The road to Al Sahab Park is narrow but two ways. It is a recommended place to visit in Abha only if you have a suitable vehicle and driving experience.
Jabal Sawda
Jabal Sawda is the highest point in Saudi Arabia, with an elevation of around 3,000 meters above sea level, and the most visited tourist spot in Abha.
If you have limited time to do only one thing in Abha, visit this mountain. I recommend booking a hotel here for the following reasons;
Al Soudah Cable Car
If you are not sitting in the other two cable cars (Green Mountain, Al Habala) or running short of things to do in Abha, visit Al Soudah Cable Car.
This is a unique experience as they go from a very high point towards the down station. These cable cars go steeply down and are worth the experience. 
Paragliding in Abha
If you've got the will and determination, the most adventurous thing to do in Abha is paragliding. Challenge yourself and put yourself up to adventures!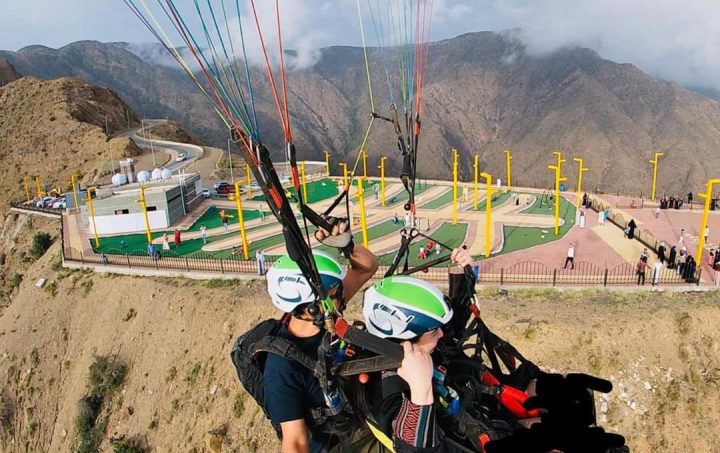 Rijal Alma village
Around 1.5 hours drive from Abha lies a 1,000 years old UNESCO World Heritage Site, Rijal Alma or the Stone Village. Your visit to Abha is incomplete without visiting the most visited tourist attraction.
The road to Rijal Alma is quite steep, so your car must be in good condition to drive there.
Bees Tower Honey Refinery
Bees Tower Honey Refinery is a cafe just a 10-minute drive from Rijal Alma. You can drink coffee, enjoy the most incredible scenic beauty and buy pure honey from the place. A fan in the cottage looks like a wind power turbine.
Rijal Castle
Rijal Castle is situated only 20 mins drive from Rijal Alma and is one of the most adventurous places to visit in Abha for tourists. 
1825, Ottamon occupied Al Khamis, Abha, and Al-Saqa but was defeated in Rijal Alma. Rijal Alma was able to defeat Ibrahim Pasha when he decided to attack it to accept Ottoman rule in 1835.
The Ottoman Empire built Rijal Castle to keep an eye on the tribes of Rijal Alma.
Al Habala Village 
Al Habala Village, or Hanging Village, is an adventurous tourist spot within a 1-hour drive from Abha. It is best to visit early in the morning when the clouds are still suspended below the cliff to enjoy the cloud view.
Hawza Village
The 400-year-old Hawza village has become the center of interest for tourists visiting Abha. It is located around 2 hour's drive from Abha city. The beauty of this village is breathtaking, and its ancient architecture reflects its past civilizations. 
The market here was very famous in ancient times. Traders from Yemen and the Arabian Peninsula used to come to the markets of Hawza village to buy and sell. There are also unique forts, military cantonments, cattle sheds, and warehouses built hundreds of years ago.
Tourist Cities