Riyadh, being the capital of Saudi Arabia has so many attractions, tourist places to visit, things to do, and picnic spots that you need weeks to explore all of them.
What is the best time to go?
I believe the best time to visit Riyadh is during the winter season, as you can enjoy the whole day and the night. The temperature in summer goes as high as 50°C making it impossible to move around.
If you want to come by air, book cheap Riyadh flights well in time to keep your trip economical.
Riyadh Boulevard World
If you have only one day in Riyadh and want to make full use of it, Boulevard World is the best place to visit. There are representations of different countries on the Boulevard and I personally liked China, Morocco, and Italy.
The area is covered with numerous shops, kid's activities, cafes, restaurants and so much more. Children would love to go there and enjoy themselves. You need to walk at least 3 hours to cover the entire Boulevard area.
Riyadh Zoo
If you are traveling with children, the best tourist place to visit in Riyadh cannot be other than the Zoo. It is probably the biggest Zoo in Saudi Arabia with a train ride inside and therefore, your children are going to love it.
1st Paintball
If you are looking for some adventurous things to do in Riyadh, Firstainment is the place to visit. It is an excellent place to have fun and bond with friends.
Keep in mind that bullets hurt even though you are wearing a protective vest. They will not give you shoes and you will get the paint all over your pairs, so you better grab your old shoes.
Universal Bowling Center
Universal Bowling Center is quite a famous place to visit in Riyadh among expats tourists due to its reasonable price and good environment.
Snow City
When the outside temperature is 50°C, tourists can visit the place called Snow City located in Othaim Mall, Riyadh to experience -5°C. There are numerous rides there and you are going to love it with your family.
Word Sights Park
If you are someone who loves to take a lot of pictures, visit this tourist attraction called the world sights park in Riyadh. It has around 25 monuments worldwide, including the Taj Mahal, Burj Khalifa, Petra, etc.
Nofa Wildlife Safari Park
You are in a cage and experience free wildlife moving around you, this is what you feel when you visit Nofa Wildlife Safari Park in Riyadh. It is a perfect place to visit in Riyadh with your children as they can see the wild animals moving around.
Al Heet Cave
Al Heet Cave nice evening picnic spot to visit about 35 km from Riyadh. The place is not explored much by tourists and swimming is not that easy as the water is not clean. It is a perfect place for bachelors, not recommended to go with children.
Al Heet Cave Location.
Escape the Room
If you are a horror lover, you would love to visit the place called "Escape the Room" in Riyadh. Each Escape Room is a real-life adventure game. Your goal is simple, you have 60 minutes to open your mind & eyes, work together, crack codes & solve ciphers to escape — alive!
Museum of Illusions
If you want to take some crazy pictures in Riyadh, the Museum of illusions is the place to visit. Although it is not a huge museum, there are enough frames to fill your Facebook or Instagram profile. The staff at the museum will guide you on how to take pictures.
Gyrocopter Flight in Riyadh
If you have never been on a helicopter, it is time to ride a gyrocopter in Riyadh. You can have a bird's – eye view of the Thumamah desert in Riyadh and experience the sights from a different perspective on the exiting Gyrocopter tour.
Kingdom Center
Kingdom Center is the 4th tallest building in Riyadh with a height of 302 meters but tourists still visit its top floor to have an exotic view of the city.
Airforce Museum
Airforce Museum in Riyadh has a variety of planes, jets, and helicopters on display which makes it a must-visit place in the city. There are flight simulators available but perhaps due to pandemics, the services is suspended these days.
Edge of the World
If you are an adventurous tourist, you should visit the place called Edge of the World situated a 2 hours drive from Riyadh. It is always better to have a 4X4 car for this as you will be driving off the track.
Make sure to start with the first location given below and once you are there, navigate the second location to avoid being misguided by Google Maps.
Finger Mountain 
If you are a tourist who loves adventure, finger mountain or Jabal al-Isbii located in Qiddiya Riyadh is the place to visit. It is a cool place to go for a short hike but be careful the closer you get to the top, the Rock is very brittle and will crumble. Wear good shoes and long pants.
King Abdullah Park
If you want to enjoy a fountain show in Riyadh, King Abdullah Park is the tourist spot to visit. It has nice play areas for children as well as different musical vehicles such as trains and cars which adds some difference from other gardens.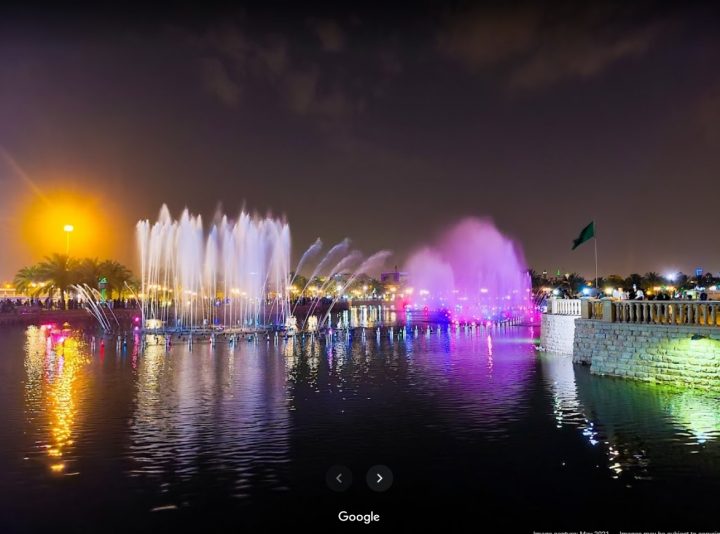 Al Salam Park
Al Salam Park has been a perfect picnic place both for tourists and residents of Riyadh to visit on a weekend. It is a very well-maintained park with green grass, many trees, and a beautiful lake in the middle.
Lake Khararah
Lake Khararah is a tourist attraction and a perfect picnic spot situated around 60 km from Riyadh city center. The best time to visit Lake Khararah is winter when there is enough rain to fill the lake.
Wadi Hanifa
This place once used to be a garbage dumping point of Riyadh has been converted into a beautiful park and a quiet tourist attraction. It is a perfect spot to enjoy some time with peace of mind while your children play with water.
Ushaiger Heritage Village
The 1500 years old Ushhaiger Heritage Village situated around 200 km from Riyadh is a very unique tourist spot for a walk through the history, beauty, and simplicity. Ushaiqer is a standing ancient village that outlines the beauty of Najdi style and art.
Ad Diriyah Museum
You can learn and explore Saudi Arabia's history through an arranged tour at Diriyah Museum in Riyadh which has become a great tourist place. It is not yet open for public visits so you will have to book a tour operator.
Here you will find out how Saudi Arabia was established, its 1st state, 2nd state, and how it united as one and it is past to current rulers.
Diplomatic Quarters
Diplomatic Quarters in Riyadh are filled with embassies and residential compounds and therefore you cannot visit on your own. You can only visit this place if there is someone who lives inside is willing to host you.
National Museum
National Museum Riyadh is an amazing tourist spot where you can see the history of Saudi Arabia and Islam with amazing artifacts and displays. The whole activity would not take more than 2 hours.
Murabba Historical Palace
Murabba Historical Palance is a beautiful tourist attraction in Riyadh with scenic pathways winding through beautifully sculpted gardens. Water features add an otherworldly effect to the place, especially at sunset.
Al Masmak Museum
Al Masmak is a thick-walled fortress that was built in Riyadh during the second Saudi state time in the 19th century and hence it is a great tourist attraction. It was built mainly for defense purposes but later had different uses.
VIA Riyadh
VIA Riyadh is very calm clean, well-maintained, and organized with a variety of casual and fine dining restaurants and coffee shops. It is indeed a great place to enjoy a dining experience with friends and family suitable for kids also they have big open spaces. The place is very prestigious with a touch of majesty.
U-Walk by Cenomi
If you are done with the tourist places to visit in Riyadh, let's go shopping and eat at U-Walk. There are so many world-recognized restaurants and dress shops here.
Even you will get the movie theater "MUVI". You will get a beautiful fountain in the middle of the Cenomi. Young people love to go there in the evening.
Riyadh Front
Riyadh Front is another amazing place to visit in Riyadh for shopping and eating with a great ambiance. There are some stores, Vox cinema, and a variety of restaurants offering different cuisines plus cafes/coffee shops.
Pigeons Tower
Pigeons Tower is an abandoned unique building that can be visited during your trip to Riyadh. Each chamber has its own tower and in the middle, there is an open courtyard connecting all chambers via a passageway.
worth visiting for about 30 minutes stopover on the way to Hidden Canyon. Be cautious!!! There are so much of flies around and kind of disgusting too.
Hidden Canyon
Situated at around 100 kilometers from Riyadh, Hidden Canyon is a perfect place to visit for nature lovers in the winter season. Hidden Canyon is a beautiful rock formation where you might find some rainwater too.
Wear comfortable clothes as you might have to climb up and down to explore more.
Audat Sudair
Audat Sudair has one of the largest, most beautiful, and well-maintained historical towns in the Riyadh region. Many old houses have been converted into beautiful museums.
Audat Sudair is situated around 150 kilometers from Riyadh and is one of the must-visit places for those tourists who like historical places.