99% of women wear Hijab in Saudi Arabia but it does not mean that they cannot look good, pretty, beautiful, attractive, or fashionable. Here are 10 things to do to look beautiful in Hijab.
How to Wear a Hijab?
Here is the 5 steps guide to wearing a Hijab;
Step 1: Drape a long scarf over your head with one side longer than the other.
Step 2: Pinup both sides of the scarf together under your chin.
Step 3: Flip the longer end of your scarf behind your opposite shoulder.
Step 4: Flip the longer end of your scarf back to the front of the other shoulder.
Step 5: Spread both the ends of your scarf so that they cover your chest.
How to look good in a Hijab?
Play with colors
You can look beautiful by selecting vibrant attractive Hijab colors instead of black and dull shades of gray and brown. Choose according to your personality, bright colors for bold ones or mute colors for a dull personality. 
Play with your eyes
You can look good if you wear a colored lens in combination to the color of the Hijab.
Brown eyes complement well with blue and violet shades of scarves.

Green eyes should be complimented with red, peach, and pink shaded scarves.

Blue eyes look beyond amazing when paired with gold, orange, or brown tones of scarves.
Keep your undertones in mind
If you have fair skin, you can look pretty by selecting warm Hijab colors such as orange and red. Blue and green hues look attractive on the sun-kissed gold skin. Plum and Coral look amazing on the dark chocolaty skin.
Play with the pattern
Choose an interesting pattern like polka dots and floral designs to match your outfits. Scarves with larger prints add boldness to your outfit. It is best for dresses with too many colors.
Ensemble
Don't go for too many matching shades which can result in a dull look with same colors. Mix and match the colors in contrast. It is not necessary to pair a green dress forcibly with a green hijab.
When your outfit is bright, choose dull scarves to compliment. Simple dresses can we paired with stylish bright colored Hijabs.
Ways to Wrap
Take a square-shaped scarf to fold it into half forming a triangle. Wear it on your head and pin it under your chin. Take the free ends and pin it up on the opposite sides on the back of your head.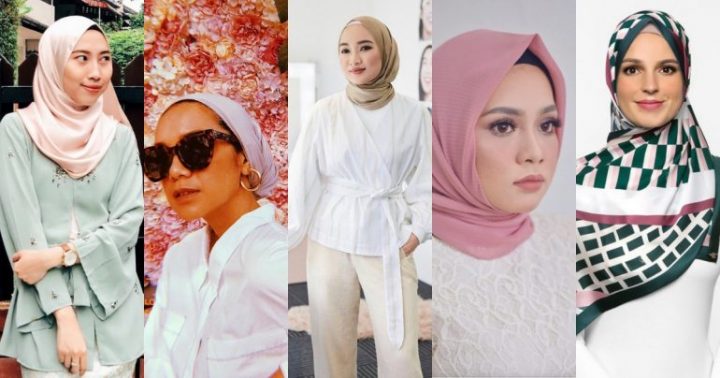 Wear Accessories
Use elegant colorful pins to hold your scarf. Wear a headband under the hijab for support. Use stylish brooches for pining. You can tuck your scarf behind the ears and wear earrings to show.
Long necklaces also complement well with Hijab. Use embroidered or diamante studded scarves for a unique look.