Khaled Al Shaeri, a young Saudi who once weighed almost 608 kilos. has reduced his weight to 68 Kg now.
Heaviest man in Saudi Arabia
He was once known as the heaviest man in Saudi Arabia, and the second heaviest man in the history of the world. 
At that time the late King Abdullah sent a huge aircraft to take the obese teenager to the hospital.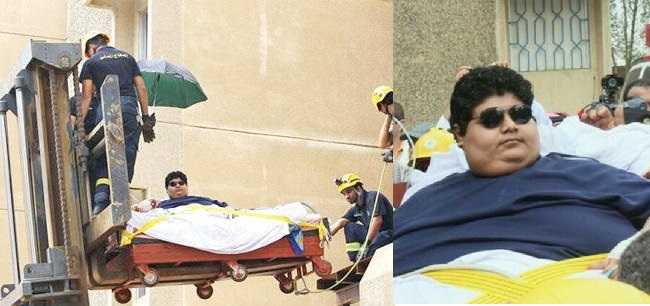 He was brought down with a crane
The cranes were used at that time to bring him down from his flat. With this kind of weight, you cannot move or walk. Just imagine a crane was required to bring him down the floor.
Nearly 30 medical staff and civil defense men transferred him to King Fahad medical city in Riyadh with the help of a special crane. 
A remarkable story
Khaled Al Shaeri said: I was transported with the help of a team of medics, firefighters, and policemen. At that time, I weighed 608 kilos.
The medical team was respectful, they treated me well and helped me to lose weight and this is how I lost 540 Kgs weight in four years.
He lost 80% of his body weight in 4 years. His new weight is 68 kilos. His before and after pictures are quite satisfying and amazing. People are loving and hail him for his new transformation.
The extra fats can be burnt by diet or exercise. We have seen a lot of people taking an early walk which is good for health. Avoiding junk food is also a way to reduce weight. 
Source: Al Arabiya