All Iqama holders, including Pakistanis living in Saudi Arabia, can apply for Thailand Visit Visa. Here is the process;
Do you need a Thailand Visa?
Thailand offers visa-free entry to 57 countries. Therefore, if you are a citizen of one of these countries, applying for a visa is unnecessary.
Requirements for Thailand Visit Visa
Here is the list of requirements to apply for a Thailand Visit Visa for  Iqama holders of Saudi Arabia;
Filled Visa Application Form.

Three photos with white background.

Salary Certificate stamped by Chamber of Commerce.

6 months bank statement.

Exit Re-Entry Visa.

Iqama copy.

Passport + passport copy (valid for at least 6 months).

Confirmed Airline Ticket.

Hotel Booking.

Invitation letter (for the business trip only).

Thai Visa checklist.

Visa Information Summary (VIS) form is available at the embassy.
Visit Thailand Embassy
Once you have arranged all the required documents, visit either Thailand Embassy in Riyadh or the Thailand consulate in Jeddah;
Thailand Embassy Riyadh location.
Thailand Consulate Jeddah location.

Visa Submission Time: 9:00 am to 11:30 am.

Pay Thailand Visa fee: SR 160 (cash).
Ensure you don't go to the Thailand Riyadh Embassy or Jeddah consulate on the following national holidays.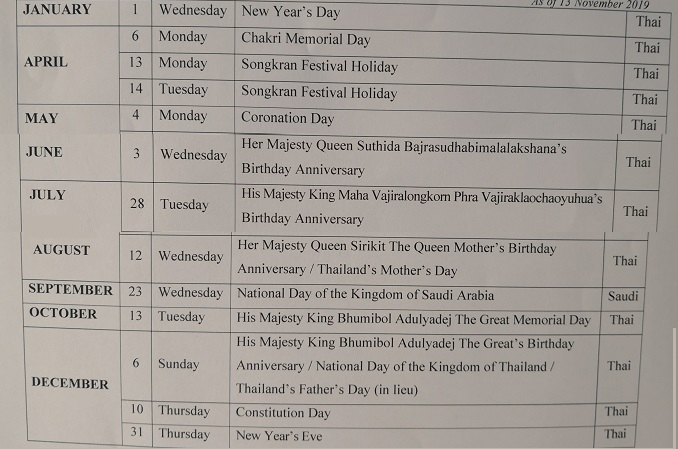 Passport Collection
After the submission of documents, the visa officer will issue you a receipt mentioning when you can collect your passport. Thailand visit visa processing time is three working days from Saudi Arabia.
Passport Collection Time: 01:30 pm to 3:00 pm
Video Guide