If you are visiting Taif in the summer, you cannot miss a visit to Taif water park and get a toboggan ride in Al Kar tourist village.
Taif Water Park Ticket
You can send a message to their WhatsApp number to get the latest information about the ticket price. When we checked it last time, the price was the following;
Water Park: SR 150/person.

Toboggan Ticket: SR 46/person.

Teleferic Cable Car: SR 100/adult and SR 80/child

Teleferic + Toboggan + karting: SR 150/person.

Teleferic + Water park: SR 175/person.

Karting: SR 46/person.

Water Oasis for kids: SR 46/person.

Operating times: ⏰ From 9:00 am – 9:30 pm.

Taif Water Park location.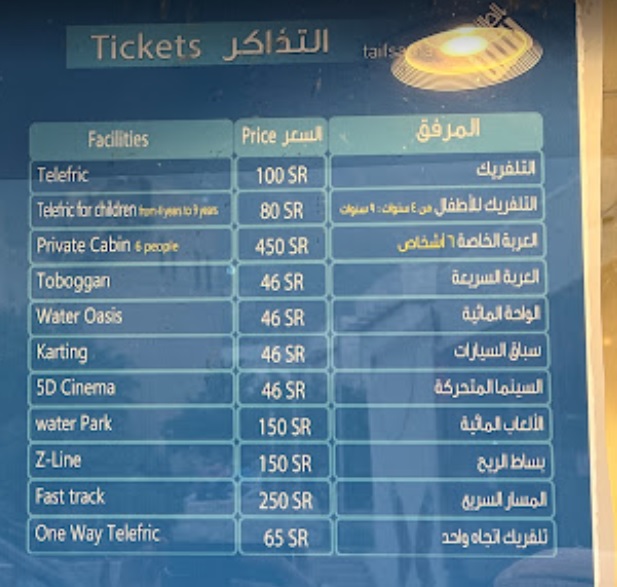 When to arrive?
It is better if you arrive at the water park around noon as it might get chilly as the day passes. Moreover, you will have plenty of time to make use of the money paid for the water park and enjoy your rides.
In case you are taking a cable car with the package, it is better to do it in the daytime as you would better enjoy the view.
Water Park for Women and Children
The water park used to have a separate swimming area for men and women but now they have discontinued the women swimming areas. Therefore, women cannot swim there anymore.
However, there is a separate area for children in the Taif water park and women who want to enjoy water often enter this area. Obviously, the slides and water activities are very limited for children.
Toboggan ride
During your visit to Taif Water Park, a toboggan ride is a must-try thing. If you like adventure, take this ride after sunset or even at night time when it is fully dark.
First safety, put on the seat belt and then the leg belt. The toboggan ride allows you to speed up or slow down as per your choice. Keep in mind, if you slow down, someone from behind can bump into you and that's fun.
Where to eat?
The restaurant at Taif Water Park also has a beautiful balcony that provides a bird's eye view of the entire landscape and captures the beauty of the entire region.
The balcony can, however, get especially windy and cold at night and is a perfect place for those who enjoy the cold windy weather and a beautiful view.
Families should take into account that the return trip to Jeddah is almost two hours long, hence they should plan their activities and meals accordingly. Usually, the nature, beauty, and enjoyment of the families make them forget about the two-hour-long drive back home.