Presenting Arabic coffee with dates is a common tradition in Saudi Arabia. Here we have explained the ingredients and the process to make Arabic Qahwa at home.
Arabic Coffee Ingredients
The method of making Arabic Qahwa varies widely from place to place due to differences in the quality and type of coffee beans, and different ingredients or flavoring added to them. However, you normally need the following ingredients to make Saudi Qahwa.
Arabic Qahwa beans or 3Tbsp of

offee

powder.

Water – 1 liter.

Crushed cardamom – 1tbs.

Cloves- 3-4.

Saffron- a pinch.

Ginger powder – a pinch.

Rose water- 1tsp (optional).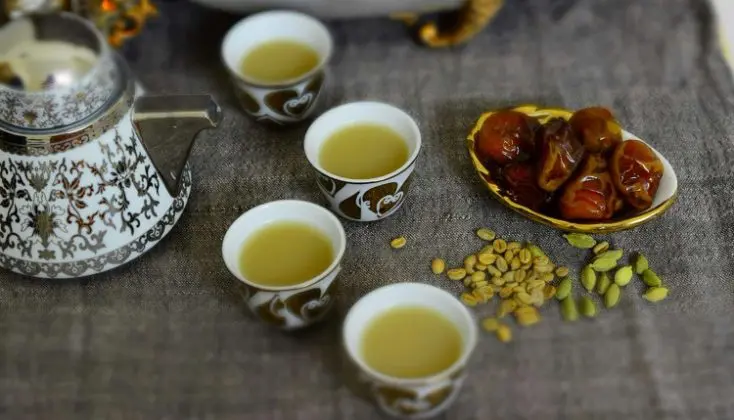 How to make Arabic Qahwa?
You also need the following to prepare and present the Arabic coffee;
Dallah = A utensil to make Qahwa.

Thermos/Kettle = To keep the coffee hot.

Handless cups named Finjan.

Soft Dates.
Step 1: Grind Arabic Qahwa beans
You can purchase Qahwa beans either roasted or ground.
Grind the Arabic coffee beans in a grinder if it is not pre-ground.

The

Qahwa Coffee

powder is also available in the market which would not require you to grind the beans.
Step 2: Boil water and add coffee
Add 1 liter of water to the Dallah or saucepan on medium flame. 
Add 3 tablespoons of Arabic coffee powder.

Leave it on high heat until it starts boiling.

Lower the temperature and leave it to boiling for 20 minutes.

Turn off the heat after 20 minutes.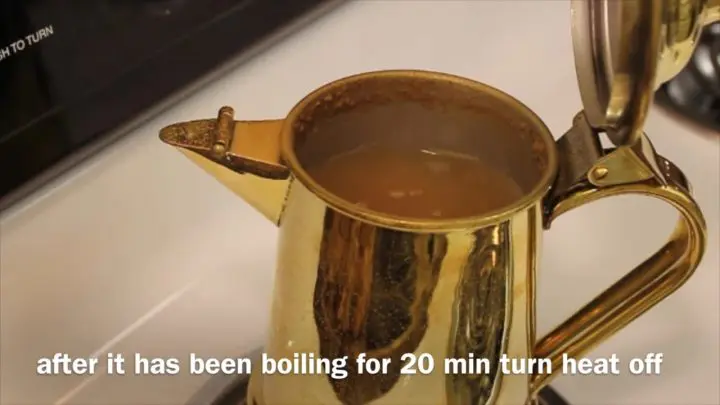 Step 3: Add Arabic Coffee Ingredients
Now the Arabic Qahwa is ready to drink but to improve its taste, you will add different ingredients to it. Add;
1 tablespoon of crushed cardamom.

Pinch of crushed cloves or 3 pieces of cloves.

Pinch of ginger powder.

Pinch of Saffron.

1 tablespoon of rose water.
Now leave it to rest for 5 minutes before serving it to your guests.
Step 4: Serve the Arabic Qahwa
Now pour the Arabic coffee into a thermos or kettle and present it with small handles cups and dates. The cups are always filled half with the Qahwa.
Eat one date, chew it a little bit and then drink half a cup of Arabic Qahwa.