SoftLoft created innovative e-commerce solutions that expanded the market for Mothercare
 You would not believe the story that a small mouse was able to carry a large elephant to the other side of the lake. But there is truth in this story. SoftLoft managed to move a large company across the ocean. We cheated a little bit here, because we used modern technologies and not muscles.
For over 50 years, Mothercare has been taking care of the convenience of mothers who are caring for babies or are just preparing to give birth. The company has spanned the globe and provided hundreds of thousands of parents with convenient items. But the company realized that some of its customers on the other side of the world were out of reach. The brand wanted to get closer to new users of its products. The intercultural barrier, lack of systems, and lack of communication hindered the implementation of ideas. It was then that Mothercare realized the need to apply innovative solutions to overcome obstacles. The best decision in this matter was to involve SoftLoft in the work.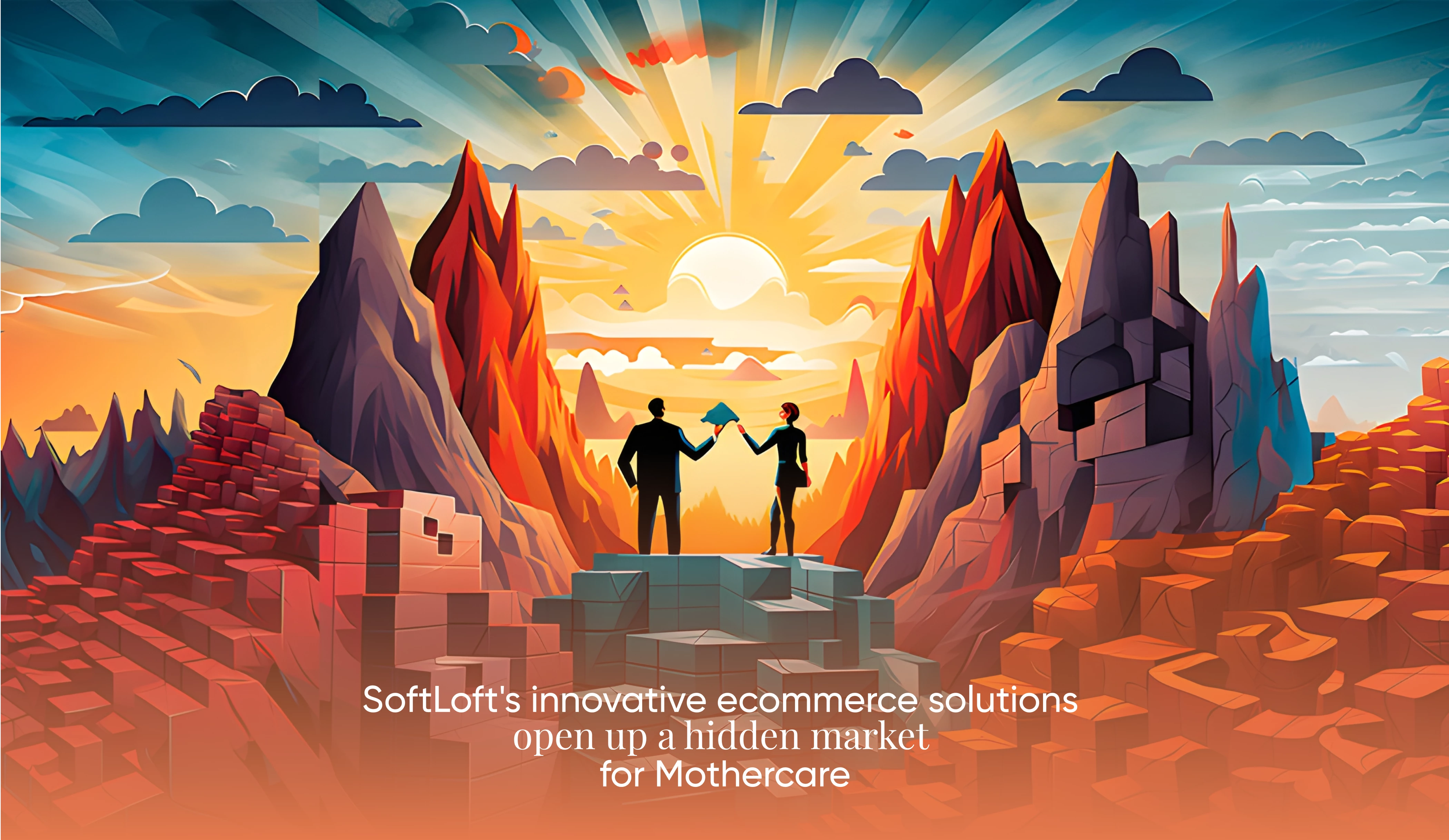 Challenges and Expectations Faced by Mothercare
Our active cooperation with Mothercare included not only improving the existing service, but also expanding our operations to the Middle East. In this process, we faced numerous challenges.
We set ourselves the task of getting along with another culture and reaching a mutual understanding with an unfamiliar audience. We also had to provide access to a user-friendly interface in another region, synchronize payment and delivery systems, and create effective interaction between large nodes over a long distance.
What Mothercare got as a result of SoftLoft's work
As for Mothercare's achievements, SoftLoft's work went beyond the requirements and expectations. Our ideas shocked the company. For example, we had more data to analyze than a skyscraper. The development of strategies included dozens of points and sub-points, and the integration of algorithms was created manually. Thanks to the efforts made, the company grabbed another piece of the world in one fell swoop and started acting.
By pushing the envelope, daily visits to the site increased by 50%, the number of people ready to make a purchase right now increased by 35%, and in the first week alone, there were 25% more positive reviews from happy moms. This immediately affected the company's stability and profits.
We rebuilt the platform's internal algorithms and set everything up so that even a sudden influx of 300% of visitors would not prevent moms from getting the right thing.
We also worked on automating a number of processes to make task completion 40% faster. As soon as a mother clicks the "buy" button on one continent, a call about a new order is received on another in 2.71 seconds. Imagine a sum of 6 or 7 digits. And now subtract 30% from this amount. Can you imagine? This is the cost savings we have achieved thanks to new technologies for the company.
Did we really have to rebuild the entire system? In general, this is not true. We just improved the existing one. It's like renovating your uncle's workshop, adding another entrance for an additional customer, and replacing manual tools with pneumatic ones that work faster.  
Of course, reliability, protection, and continuity of operations were the first priorities by default. We never forget these things.
So, we worked from the inside out so that users could get better results at home and the company could be proud of itself!
SoftLoft repairs broken things and throws away obsolete ones. This is how it happened with Mothercare
For SoftLoft, every client is an important person. We can start a new business, improve an existing system, find weaknesses, and increase its efficiency. Even if at first glance everything works flawlessly, new technologies and innovative solutions will double the efficiency.
At Mothercare, we faced some tough challenges. We used an integrated approach and successfully solved the chain of problems:
1) Fast accounting of the quantity of goods at different points
Thanks to the OMS integration, all departments receive up-to-date data. No more messages with the text "Sorry, we're out of stock". Each mom will know how much she can order right now and how long she has to wait for delivery.
2) Coordinated work of departments
Using the Enterprise Service Bus, we have improved communication and achieved a clear understanding of actions even at a distance between centers and nodes. Employees do not need to send reports or make phone calls every time. Every operation is recorded and displayed for everyone in real time.
3) Make third-party systems work at full capacity.
Basic system tools don't always work perfectly. Sometimes systems even have conflicts and crash due to differences. Our teams know these subtleties, the key points, so they combine them like clockwork.
4) Control large volumes of traffic
Magento Commerce Cloud has given us the ability to handle a powerful load and clearly coordinate all actions, customize all the necessary elements to get the perfect balance and efficiency. It's like taking a family sedan and turning it into a race car.
These are just a few of the good ideas we have implemented. Of course, the whole process required hundreds of minor and critical actions. As reality shows, the Mothercare brand is almost at your doorstep and this is our result.
How has SoftLoft achieved this?
We used the experience gained in Magento Commerce Cloud and PHP (Symfony, Zend Framework, and Magento Framework), created our own algorithms, and established a reliable level of security and scalability. Additionally, we used RabbitMQ, Elasticsearch, ESB, etc. This set gives us a wide scope and functionality to realize our ideas.
Nothing is unattainable for SoftLoft  
In this project, we have gained experience that cannot be estimated. But here you can see a significant result in the development of the company and its profits.
Do not wait for a miracle, create it yourself with us and step forward to new technologies. Our comprehensive solutions will give you a huge boost for your favorite business. Conquer the heights of commercial business with SoftLoft.