If you are new to Saudi Arabia, be aware of the following most common scams, and don't become their prey.
Mobile Call Scam
The most common scam in Saudi Arabia is receiving a phone call asking for a credit card or debit card details. They will tell you that your Iqama is about to expire in their system and request the credit or debit card details.
Shipment arrived
The second most common scam in Saudi Arabia these days is receiving an email from a shipping company e.g. Saudi post, DHL, Aramex, etc that your shipment has arrived. You would be required to pay a few Riyals customs duty but ultimately pay off a huge sum of money.
The email looks exactly the same as that sent by the official companies but if you look at the email address itself, it is different.
Bank Account Frozen
Another common fraud in Saudi Arabia is receiving an email from Bank Al Rajhi or SNB bank that your bank account has been frozen. They will require you to fill out a form to reactivate the bank account.
Don't fill out this form as the process to update Iqama details in every bank are through internet banking.
Family Visa Scam
Family visa is the fourth most common scam in Saudi Arabia where the scammers will probably tell you that they have a source inside Jawazat that they can get you a permanent family visa in only a few days.
The scammers will usually ask for the money upfront and then yo will keep on following them for the rest of your life.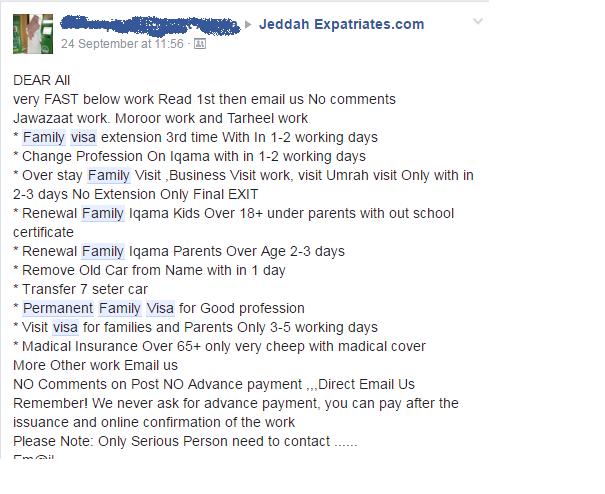 Massage Scam
People on social media share pictures of pretty girls that offer massage services along with a WhatsApp Number. Once you start talking to them, they will tell you to buy an iTunes card worth XXX price as they don't receive cash.
Once you share with them the iTunes code, your phone number gets blocked on WhatsApp.
How to avoid such scams?
Here are a few vital rules which you should most definitely live by in order to remain safe from being a victim of any and all scams;
1- If the deal sounds too good to be true, then most probably it is too good to be true.
2- You should under no circumstances pay anything upfront unless to a highly reputable certified website. 
3- You should never provide any of your personal details or information to anybody or the website.
4- Any and all schemes to become really rich really fast will probably get you into really big trouble.