A Saudi man,  Nasir bin Al-Otaibi has tied the knot for the fifth time at the age of 90. The video of his fifth marriage has gone viral on social media.
One of the videos shows his grandson congratulating him on his wedding and showering prayers upon him. Today most media channels cover his story, and netizens have put him in the limelight.
#مفاجئة_الموسم
نبارك لشيخ /ناصر بن دحيم بن وهق العتيبي
ونعم الرجل ويحث على الزواج كما ورد في مقطع الفديو مع الاعلامي عبدالرحمن الذيابي (العم معيض) من مشاهير السناب
صاحب المحتوى الجميل لقاء موفق يابوسعود #عتيبة pic.twitter.com/Bbng5RwxVj

— محمد بن عمر بن علوش بن حميد (@m_binhumaid) July 13, 2023
He said, "What I have done is a way of life." He is a father to four sons, one of whom died. He said that he is getting married to have more children. He also laughed that this was not his last marriage; he may marry in the future.
He justified that his married life has been a source of his health and that marriage is a sign of firm conviction. It gives a person relief.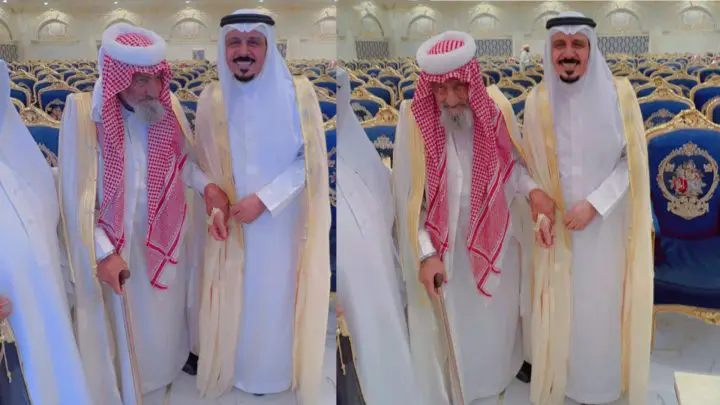 He advised the youth, escaping marriage, that they should get married to enjoy worldly life and protect their religion.
Al-Otaibi said that he is enjoying his life and will be celebrating his honeymoon. His old age won't prevent him from marrying or enjoying life.