Tinting windows basically mean having a light layer on the windows to protect the inside from sunlight. It is very important to know the rules for tinting car windows to avoid the heavy amount of fine in Saudi Arabia.
Fine for violating car tint rules
It is the responsibility of the owner of the vehicle to comply with the car tint rules in Saudi Arabia. In case of a violation of any of the rules given below, a fine of SR 500 is imposed by the traffic police.
Moreover, the police officer might ask you to take off the tinted film from your car in front of you.
Rules for tinting car windows in Saudi Arabia
1- The tint of the side, rear and front window should be at least 30% transparent which does not prevent or reflect the view of inside the car. 
2- The car tinting rules applicable in Saudi Arabia do not allow drivers to tint the windshield.
3- The tinting percentage can be increased if it is a medical requirement provided that the medical report is submitted.
4- The car tinting windows should not carry any decorations, inscriptions, pictures that reduce the degree of transparency.
5- Only a film approved by the Saudi authorities be used for tinting which should not be damaging to humans or the environment.
6- Tinting the car windows is not allowed in the following vehicles;
Public transport vehicles e.g. taxis and rented cars.

All the cars with two doors.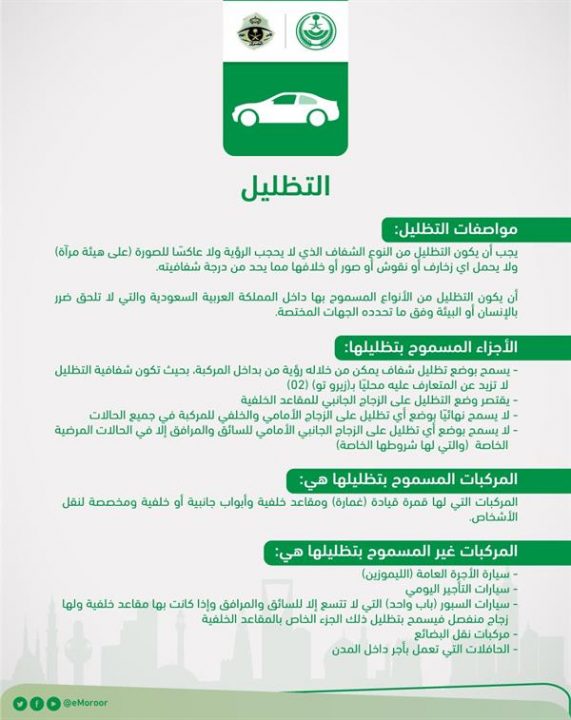 How much does it cost?
If you go to a local car decorator, he might do the car tinting for the whole car for just SR 50. However, there is always a risk that he might be using the type of film which is not approved by the Saudi authorities as many of them are not even aware of car tint rules.
In order to avoid this problem, I always prefer an authorized agent who uses 3M, Johnson, or Nano-Ceramic film for the tint. You can grab good deals from the Cobone.com website.