In 605 AD when floods had badly damaged the Holy Kaaba and a few theft incidents took place, Quraysh built its roof. At that time, Prophet Muhammad ﷺ was 35 years old. 
Why was the roof of the Kaaba built?
The Holy Kaaba was a place where people would keep their valuables as they deemed Holy Kaaba sacred. They knew nobody would take their valuables from there.
However, a few incidents of theft called for making Holy Kaaba secure. Thereby, a roof was installed, removed one door, and elevated others. This was done so to overcome the damages by the rains and floods and to deviate thieves who had looted treasure from inside the Kaaba.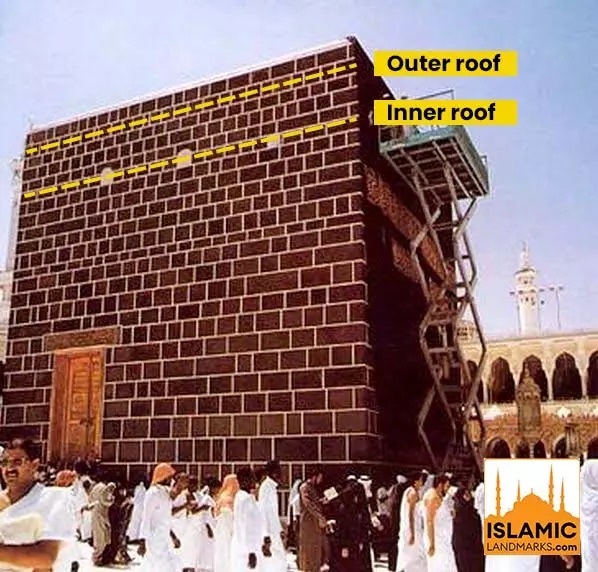 How many roofs does the Holy Kaaba have?
There are two roofs of the Holy Kaaba i.e. an inner and outer roof. The gap between the two roofs is a little more than 1 meter. Such was done to improve the strength of the structure of Holy Kaaba.
To reach the first roof, a stairway inside the Holy Kaaba is present. To reach the outer roof, a few more steps are to be taken.
Bab ut-Taubah
There is an internal door in the Holy Kaaba. Currently, this is a golden door named as 'Bab ut-Taubah'. This door which is in the right corner will help you access the stairs leading to the roof of the Holy Kaaba.
The original stairs were made up of wood. However, in 1977 they were replaced by aluminum stairs. The new stairs are circular with 50 steps. 
What does the Kaaba roof look like?
The roof of the Holy Kaaba has different elements. You can witness a slightly different right corner. This is the opening of the stairways. There is a Meezab e Rehmah as well.
There is also a metal rod in the surrounding which helps to support the cloth of the Holy Kaaba, Kiswah.
1957 repairs of the Holy Kaaba
In 1957, the roof of the Holy Kaaba was repaired and renovated in which wooden fences were added around the Holy Kaaba. A strong wood Teak that could withstand the harshness of weather was used on the roof.
Teak was imported from Burma and this wood is used in making sea ships.