If you are living in any Gulf country, you must have realized that the thobe styles of all Gulf countries are a little different from each other. You can identify the national of a country with the type of thobe he is wearing.
Saudi Thobe
The Saudi Kanduras are quite tight-fitted with a two or three-button collar. They have short sleeves that use and need cufflinks.
The headwear is called Bint Al Bakkar which is quite tough to master, but if done so it gives a great look with a red and white checked gotra. 
Emirati Thobe
The Emirati type of Thobe has no collars but has long sleeves with tassels with matching embroideries on the shoulder. The headpiece is called teachers which is just thrown over the shoulders and are very simple and easy to achieve.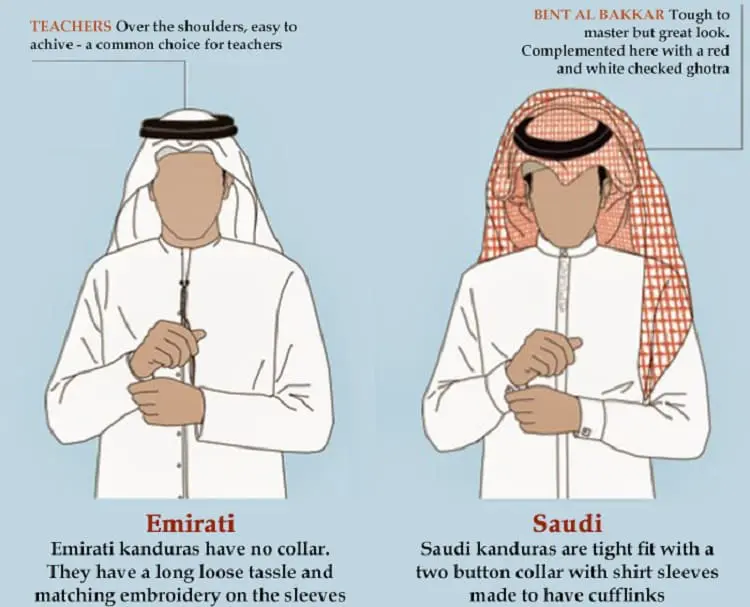 Kuwaiti Thobe
The Kuwaiti thobe is known as the Kuwaiti Kanduras which are noted for their high-quality use of a material featuring a one-button collar and a slim fit.
The head balance is made by taking the gotra at asymmetrical lengths, falling over the shoulder, and throwing the ends over the head. The shape seems to be of a scale when you view it from the front.
Omani Thobe
Omani Kanduras do not have a collar and are shortly and loosely attached just above the breast and are often colorful.
The headwear is called a Mussar, unlike the Gotra which is found in the rest of the GCC and is embroidered with personalized patterns and details.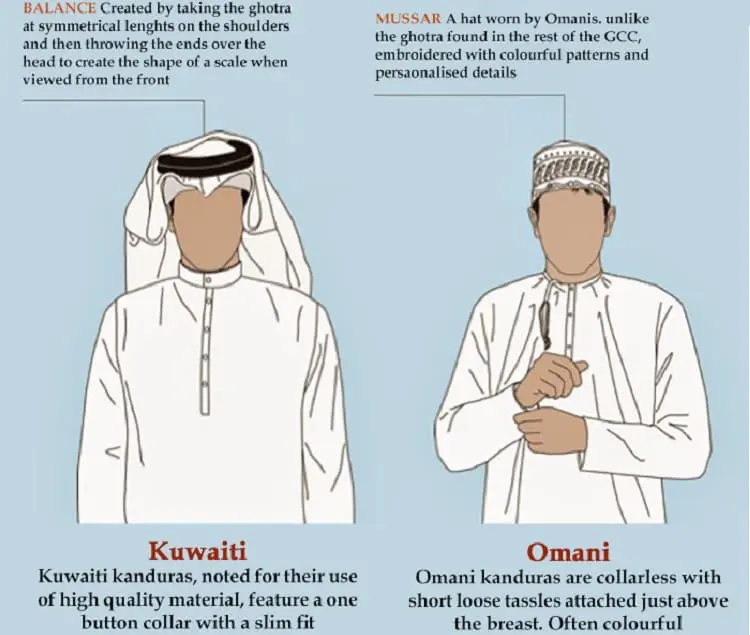 Bahraini Thobe
Bahraini types of thobes are again very loosely fitted with a soft shirt collar like the ones on a Kamiz. Some of these would feature shirt-like pockets as well.
The headwear is called a butterfly which is an easy and elegant look. This allows the free movement of the neck, unlike most others that will restrain you.
Qatari Thobe
Qatari thobe is made from a shiny material and has a stiff tassel or shirt pocket. The headwear is called the Cobra because of the heavily starched to achieve a look that resembles the venomous snake.