If you receive a fraud call or see an online scam on social media in Saudi Arabia, you can report the scammer online to the authorities. Here is the process;
Report a Scammer with كلنا امن
You can report a scammer committing online fraud in Saudi Arabia through the كلنا امن application. In order to do it;
Download كلنا امن from Google PlayStore or Apple Store.

Register your account with the application.

Click on "My Incidents".
Select "New Incident".
Navigate the location of the incident.
Type of Incident: Cyber Crimes.
Cyber Crime Incident Type: Fraud and Scam.
Social Media Type: Select the social media, for calls select "other".
Accused Social Media ID: Enter the ID or Phone Number.
Social Media Account Status: Active.

Link to Reported Post: Enter the link if any.

Incident Description: Describe the whole incident in English/Arabic.

Attach at least one image or video.

Click on "Agree" on the next screen.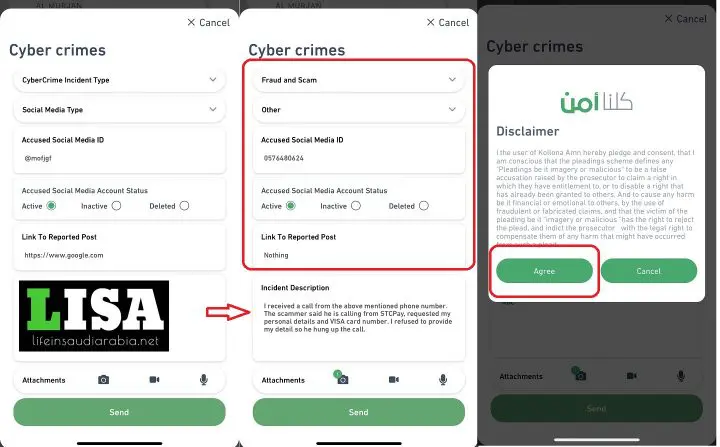 That's it, you have successfully reported a scammer to the authorities in Saudi Arabia.
Report a Scammer to the police station
The second way to report an online scam in Saudi Arabia is to visit the Saudi Police station and register your case there. In order to do it;
Locate the nearest Saudi Police Station.

Visit the police station along with the proof.

The police officer will ask you to write a complaint in the language you want.

He will register a case against the person.


Soon they will start the investigation.
Punishment under Cyber Crimes Act
As per Article 3 of the Anti-Cyber Crime Law, an online scammer is subject to imprisonment for a period not exceeding one year and a fine of SR 500,000.