Now you can report an illegal worker or a labor law violation in Saudi Arabia through the HRSD Mobile application, as explained below.
The HRSD Minsitry has reported that whoever reports illegal workers in Saudi Arabia would be rewarded 10% of the total fine imposed on those workers or SR 50,000, whichever is lower.
How to report illegal workers?
To report an illegal worker to the labor office in Saudi Arabia, follow this process;
Download the HRSD application.
Login to your account through the Nafath app.
Select "Labor Law Violation."
Click on "Get Started."
Report Type: مخالفات لنظام العمل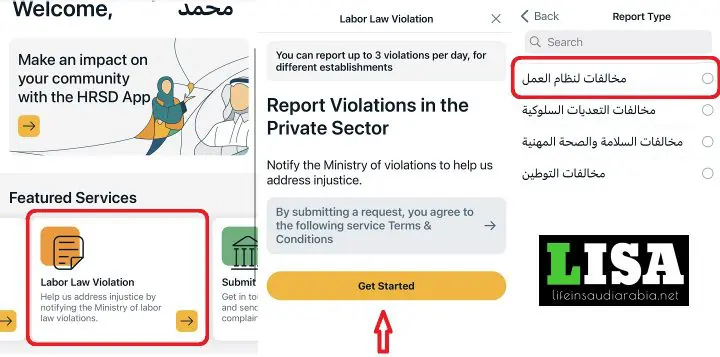 On the next page, select the following;
Violation Type: توظيف المرافقين دون الحصول على تصريح ساري المفعول وفق الشروط والإجراءات التي تضعها الوزارة

Employing workers without obtaining a valid permit.

Click on "Add Details."

Add other violation details.

Attach at least one image.

Submit to the labor office.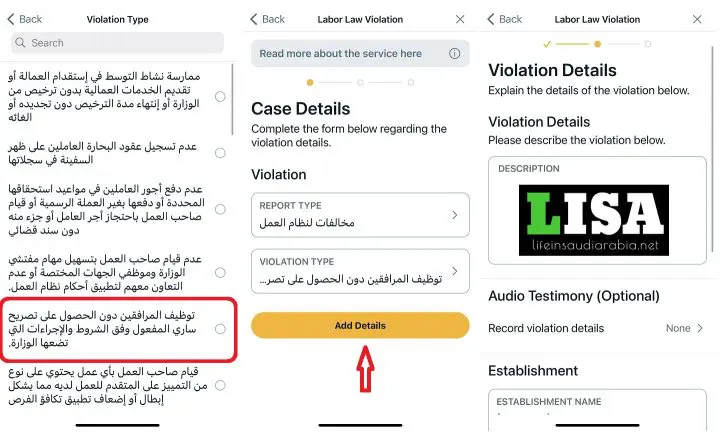 That's it; you have successfully reported a labor violation or an illegal worker in Saudi Arabia. Now, the authorities will take the appropriate action.
You might have noticed the labor ministry has been catching around 10,000 to 15,000 illegal workers on average every week. It is made possible after the launch of this application.