Mudad is a payroll system issued by the Ministry of Labor that monitors the payroll violations by the employer and lets employees respond to the justification submitted by the company. Here is the process to register;
How to register with Mudad?
It is very important to register with Mudad to accept/reject the justifications submitted by the employer on payroll violations. In order to register;
Open Mudad website: https://mudad.com.sa/landing-page/home
Click on "Start Now".
Enter your Iqama Number.
Click on Verify button.
Enter the OTP received from Absher.

Enter your Name, Email and Phone Number.

Enter the OTP received on your phone.
That's it, you have successfully registered with the Mudad platform. Now you can check the name and the number of employees in your company.
How does the Mudad system work?
Mudad is a highly regulated digital system of payments of wages. Whenever your employer delays the payment of salary to any employee for a month, it results in wage protection system violation.
For example, Ahmad's salary is delayed.
The employer receives a WPS violation notification on Mudad Platform which requires justification from his side.
The salary is delayed because the employee was absent.
Mudad Justification from the Establishment
Once the employer justifies the WPS violation, the employee receives the following notification on his mobile. 
Dear employee, your company has justified a violation of your salary please accept/reject within 3 days on mudad:
The employee needs to either agree or disagree with the justification received in the Mudad. In order to do it;
Now you will find 3 options in your account to answer the justification posted by the establishment owner (employer).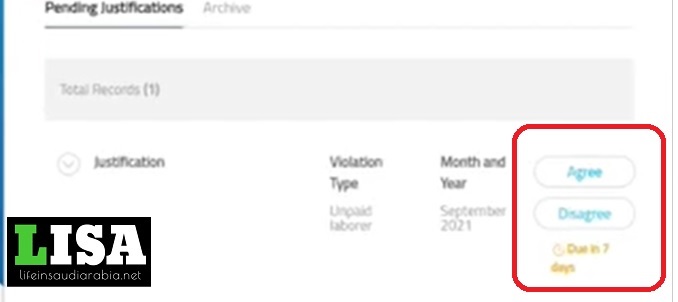 Agree: It means you are agreeing to whatever justification is written by the employer. If you press this, the issue is closed here and the MOL will not inquire about it.
Disagree: If you disagree with the justification provided by the employer, click on the disagree button. The Ministry of Labor will look into this issue now.
Automatic Acceptance: If you do not select any option, the justification will be automatically accepted in 3 days.