All iqama holders including dependents of expats and visit visa holders can create an Absher account, make registration, and activate them.
Note: Jawazat has recently allowed dependent Iqama holders, GCC nationals, and visit visa holders to register with Absher.
Absher account registration
In order to create an Absher account;
Open the link https://www.absher.sa/
Click on "Individuals".
Select "English" language.
Press the "New User?" icon.
On the next page, you need to fill the Absher account registration form entering the following details;
ID Number: Iqama Number for expats and border number for visitors.

Mobile Number: Saudi Mobile Number.

Username in English.

Password.

Email address.

Select Preferred Language as English.

Enter Image code.

Check the box to confirm the terms and conditions.

Press "Next"

for account registration.
Enter the verification code received on mobile.

Congratulations, you have successfully created the Absher account.

Proceed with the activation of the account.
Activate an Absher account
There are 3 different methods of activating your Absher account after the registration.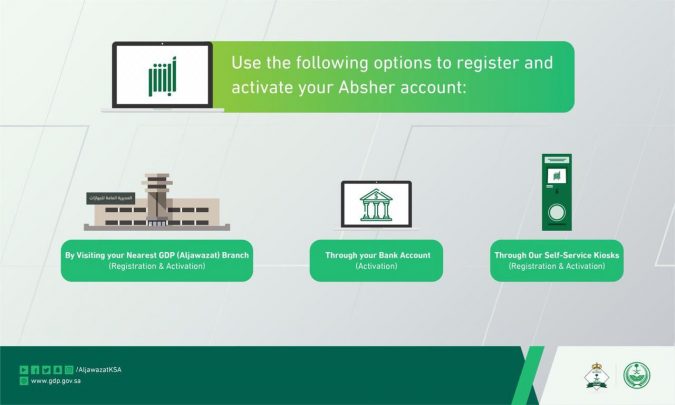 Visit Jawazat office
You can visit any Jawazat office anywhere in the Kingdom;
Book Jawazat Appointment with the service:

Activate Cell Phone Number of Absher account.

Look for the designated window.

Provide your Iqama and UserID.

The officer will activate your Absher account immediately.
Self-Service Activation Machines
There are more than 420 Absher registration machines in Saudi Arabia placed in different shopping malls and government officers to activate the account.
Locate the nearest self-service activation machine.

Select "English" language.

Enter the Iqama number.

Scan your fingerprints.

Enter the mobile number registered with Absher.
Enter the verification code received on your mobile.

Congratulation, you have successfully activated your account.
Through Banks
In case you want to activate your account without fingerprints, you can do it through your bank account. Here is the list of bank accounts through which you can activate your Absher account.
What to do on Absher?
You can perform the following 16 tasks using the e-services provided by Absher without visiting Jawazat.