You can open a PO Box in Saudi Arabia through the Saudi post and get your items delivered directly to your box with its unique number. Here is how to get a PO box in Riyadh, Jeddah, or Dammam.
Requirements
In order to get a PO Box number in Riyadh or Jeddah, you need to visit the Saudi post office along with the following required documents;
Original Iqama.

Copy of Iqama.

2 passport-sized photographs.
Locate the Saudi Post Office
The first step to getting a PO box number is to locate the Saudi Post Office near either your office or home as you will have to access it every time a parcel is received.
Visit the Saudi Post Office
As soon as you enter the Saudi post office;
Check if a PO box is available as it is difficult to get it in major cities of Saudi Arabia such as Jeddah and Riyadh.

Take a token. 

On your turn, an officer will open a PO box number for you and give you a paper containing details of your PO Box and ZIP code.

You will also receive a message immediately containing the SADAD payment reference and your PO Box number.
Your PO Box is not yet open, you need to pay SR 100 through SADAD to make it functional.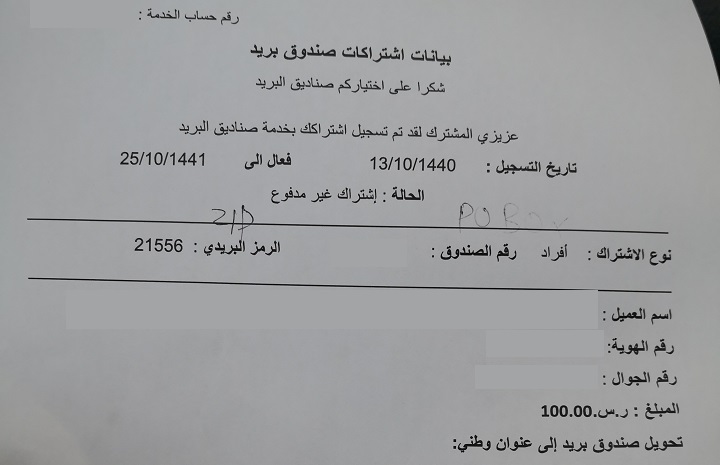 Pay the fee
In order to pay the fee to open a PO box in Saudi Arabia through SNB or Al Ahli Bank;
Log in to your Internet banking account.

Click on the "Menu" option.
Select "SADAD".
Choose "One Time SADAD Payment".

Biller: Gov Agencies.

Biller: 021 Saudi Post.

Reference Number: SADAD Number.
In the next step, you will make the payment of SR 100 to get a PO Box number in Saudi Arabia. 
Collect the Keys
Visit the Saudi Post Office and let them know that the payment has been made. The officer will activate your PO box number, issue you a card, and hand over the keys to you.