Being a fan of Padel tennis 🎾 is like hovering between two sports at a time which is tennis and squash. While the world is growing trend for Padel Tennis 🥎, how can Riyadh stay behind? Here we have the top 10 places to play padel tennis in Riyadh.
4padel
One of the finest padel tennis in Riyadh has to be 4Padel. It also lets you enjoy your time as they have an outdoor sitting arrangement.
They will grant you access only if you have a monthly subscription which starts from SR 800 a month. You can have a trainer as well. A small shop is also located from you can purchase sports accessories.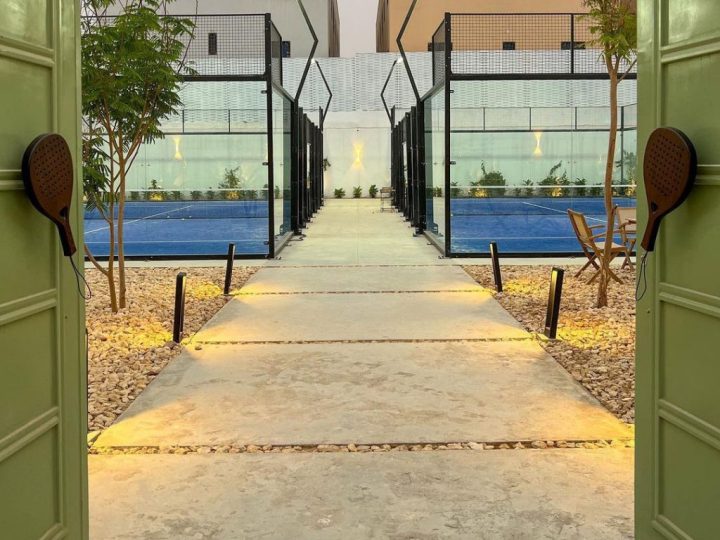 Game Point – The Padel Club
Want to have some serious game of Padel Tennsi? Enjoy your time at Game Point which is open around the week from 3 pm to 6 pm. The prices at Game Point do differ, they start from SAR220.
Prices differ from timing to other factors. For instance, the 6 pm to 2 am sessions starts from SAR250. You can purchase your racket from there at SR 599.
If you need a trainer, you can avail of it from, Sunday to Wednesday starting at SR 350. But the more people, special discounts can be availed for training!
Padel Arena
Playing Padel tennis on the rooftop is so much fun. The Padel Arena offers it for both men and women. The price starts from SR 270. Night peak hours can cost around SR 360.
The prices are inclusive of rackets, balls, water, and parking. They are open from Saturday to Thursday from 10 am to 5 pm and on Friday from 4 pm to 5 pm.
Padel Rush
Not only that you can enjoy Padel Tennis, but you can also enjoy a yoga session. Thus, you can enjoy a healthy time there. Ladies can enjoy a ladies-exclusive time on Wednesday from 5 pm to 6.30 pm.
A 90-minute game will cost you SR 210. However, a 90-minute game from 3 pm to 2 am will cost SR 420!
Padel Up
Padel Up is one of the most popular and famous Padel stadiums in Riyadh. They have 8 high-quality pitches for the sports lover. You can get your kit from there.
The racket will be SR 15 while the box of balls of SR 35. Offers a 90 minutes game for SR 350. You can enjoy a game every day from 8 am to 3 am.
Padel Masters
Padel Masters is located at Riyadh's Marriott Hotel. You can enjoy great food and great sports! 90 minutes of the game will cost you SR 340. You can visit it any day from 4 PM to midnight.
Padel Champ
Located at the ever-lighten Hittin, you can have a great time playing Padel tennis here. It is open from Saturday to Wednesday from 9 am to 1 am. While from Thursday to Friday from 9 am to 2 am.
Let's Padel
The beautiful ground is open 7 days a week so that you can amplify your game! It is open from Sunday to Thursday from pm to midnight while on Friday and Saturday from 9 am to 12 am.
Valley Padel
You can now play a fun game of padel tennis in the mountains. Located in Wadi Hanifa, Valley Padel offers the best experience of Padel Tennis. A single 90 minutes class starts from SR 330, while private training courses start from SR 350.
2Padel
Want to enjoy the best Padel Tennis experience? Then you should go to 2Padel which is located in Wadi Hanifa in Riyadh. It is open across the week but from 6 am to 6 pm.
You can enjoy a play of 60 minutes for SR 220 and a play of 90 minutes for SR 330.  If you don't have a racket, you can rent it for SR15.