What is the meaning of Miqat?
Miqat is the area or location at which pilgrims wear Ihram, either for Hajj or Umrah while coming from Taif, Riyadh, Madina, Jeddah, or any other city.
We have given all the 8 meeqat locations along with the boundary map for the ease of pilgrims.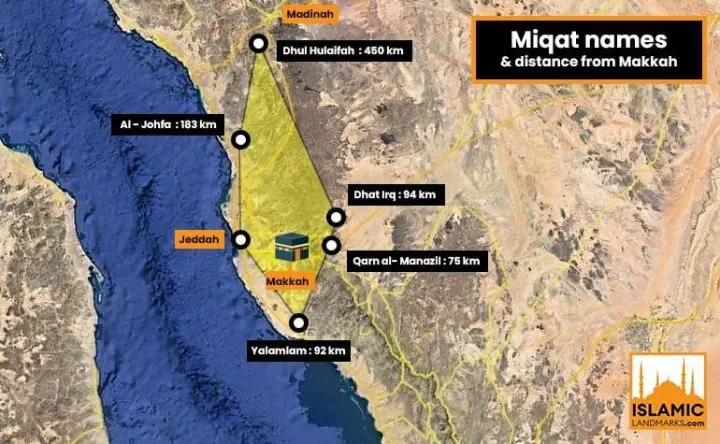 Dhat Irq Miqat
Dhat Irq Miqat is around 94 kilometers towards the North East of Makkah. This is the meeqat from Iran, Iraq and for individuals from the same route. This Meeqat point has three sections;
one is known as "Maslakh"

the second is known as "Qumrah" and,

the third one is known as "Dhat Irq" (also Zaat Irq).
It is better to wear ihram from "Maslakh" but there is no harm if it is worn from the other two locations as well. 
Yalamlam Miqat
Yalamlam miqat is a mountainous area around 92 kilometers to the South East of Makkah. This is the meeqat from Yemen, India, Pakistan, China, Japan, and those coming from that route. 
Miqat Masjid Dhul Hulifa – Madina
Miqat Masjid Dhul Hulifa is around 9 kilometers from Madina and around 450 kilometers from Makkah. It is the Meeqat for people coming from Madina to Makkah. Today it is known as "Abar Ali".
Juhfah Meeqat
Juhfa miqat is around 183 kilometers to the North West of Makkah. This is a meeqat for those individuals who come from or pass through the route of Syria, Egypt, North Africa, Jordan, and Lebanon to perform Umrah.
Qarn al-Manazil – Miqat Taif
Qarn al-Manazil is a mountainous spot close to Taif due to which it is also called Miqat Taif. It is situated around 94 kilometers to the East of Makkah. This is the meeqat point to the individuals of Dubai, Najd, Riyadh, Dammam, and Khobar.
Miqat Taif is also called Meeqat Al Sail Al Kabir.
Miqat in Makkah for umrah
The people who are living in Makkah or those who want to perform second Umrah just need to go out of the boundaries of Haram and wear Ihram from there. Here are some Miqat locations to wear Ihram;
Meeqat from Jeddah for Umrah
Al-Hill refers to the area within the boundaries of Miqat, for example, Jeddah, Khulais, al-Janun, and Taneem are all situated within al-Hil.
Pilgrims residing in these areas must enter into Ihram before entering the boundaries of Haram. As a result, people living in Jeddah wear Ihram from their home as their house is the Meeqat for Jeddah residents.
Miqat in the Air for Umrah
Pilgrims traveling from all around the world to Makkah to perform Umrah normally cross Meeqat in the Air. The miqat location remains the same even when you are traveling by air. 
It is advisable to wear Ihram before boarding the flight. Once the meeqat location is nearby and the announcement is made, you can make the niyyah.