You might have heard that there are some websites banned by the CITC in Saudi Arabia. Ever wondered if there is a comprehensive list of websites blocked or banned websites in Saudi Arabia? We have it here.
List of websites blocked in Saudi Arabia
CITC has the authority to block any website that falls in the below-mentioned categories under cabinet resolution No. 229 on September 28th, 2004.
While it is difficult to list down the names of the websites blocked in Saudi Arabia, we have provided the general categories of those sites.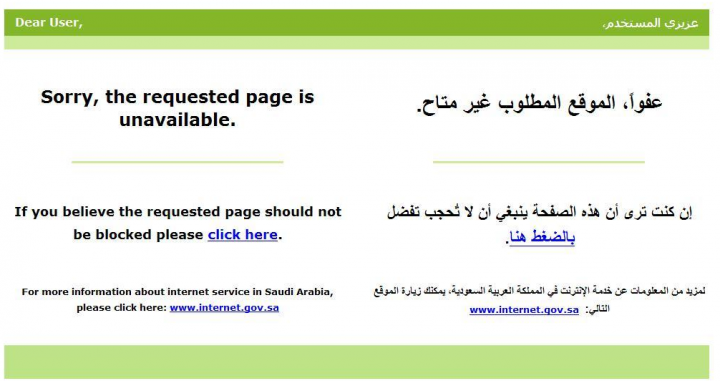 Pornographic content
1- According to an estimate, Saudi Arabia has blocked 60,000 porn websites. 
2- X-rated websites with semi-nude content.
3- Websites promoting LGBT rights and culture.
4- Dating Websites such as Tinder.
National Threat
5- News websites that go against the Saudi government policy or promote content against Saudi Arabia.
6– Websites that promote irregularities, inconsistencies, differences, and create hatred among Saudi tribes.
Security Threat
7- Websites of organizations banned in Saudi Arabia including terrorist groups.
8- Websites that promote teaching, promote or provide its users hacking software.
Against Islam
9- Any website that posts offensive content against Islam or Prophet Muhammad ﷺ. Source: CITC
10- Websites that propagate false information about Islam.
11- Websites promoting magic and juggling.
Fraud Websites
12- Websites that infringe copyrights such as imitation of a registered logo or a trademark. Source: Gulf News
13- Websites that sell unlicensed items such as fake branded products.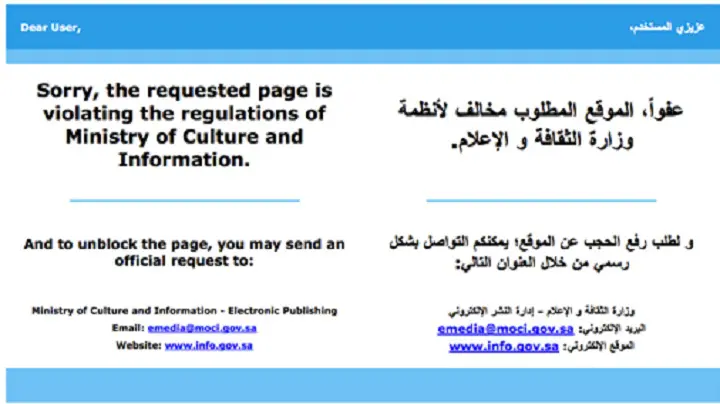 Promotion of Drugs and Alcohol
14- Websites selling illegal items such as drugs, alcohol are also banned in Saudi Arabia.
Personal Abuse
15- Websites involved in defamation, cursing, insulting, and internet misuse.
VPN Websites
16- VPN websites and applications that allow users to access banned content through a proxy server.
Gambling Sites
17- Gambling and online betting websites.
Can we access blocked websites?
Although the above categories of websites are blocked by Saudi Arabia, people use VPNs to access them anyhow. The use of VPNs is not only illegal but very risky for your privacy and device.
It makes your phone prone to hacking which may lead to misuse of your personal and financial information.
How to block a website in Saudi Arabia?
If you think that a website qualifies falls in the categories to be banned in Saudi Arabia, you can request the CITC to include it in the list. Here is the process;
Click on "Block Request".

Enter your email.

Enter the URL of the website to be blocked.

Select the "Reason" to be blocked.
Click on the "Submit" button.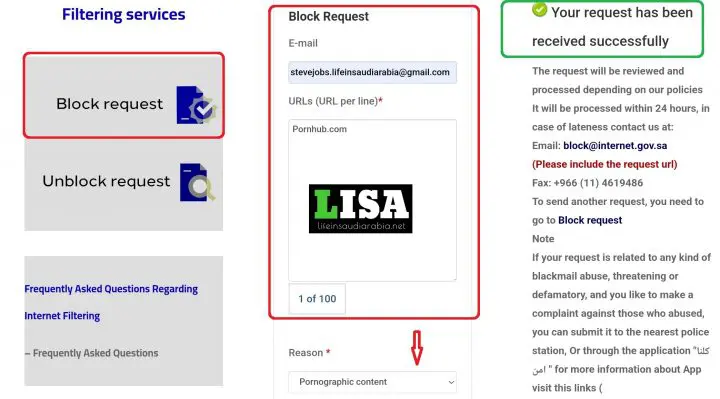 You can also send an email at [email protected] along with the URL mentioning the reason it should be blocked.
How to unblock a website?
In case your website has been blocked by a mistake and you feel that your website does not relate to any of the categories given above, you can submit a request to unblock a website in Saudi Arabia. In order to do that;
Click on "Unblock Request".

Enter your email.

Enter the URL of the website to be unblocked.

Select the "Site Type".
Check "Yes" if you are the website owner.

Justify why your website should not be blocked.

Click on the "Submit" button.
If the application is accepted, your name would be removed from the list of websites blocked in Saudi Arabia.