We have created a list of the top 10 tallest men in the world who are alive. The list only caters those who are active and whose heights have been certified to be true. Those whose heights are not verified are not added to the list.
Sultan Kösen of Turkey
Kosen has a height of 251 cm, making him the tallest man alive today in the world. He holds a Guinness World Record as of September 2009. He also holds the record of having longest hands and second largest feet among those alive!
A few days ago, tallest man and shortest woman of the world had a photo shoot in Egypt. If you see the pictures, it looks like the sky is meeting the land. On the other hand, it is a good step by the Egyptian government to support these extraordinary people.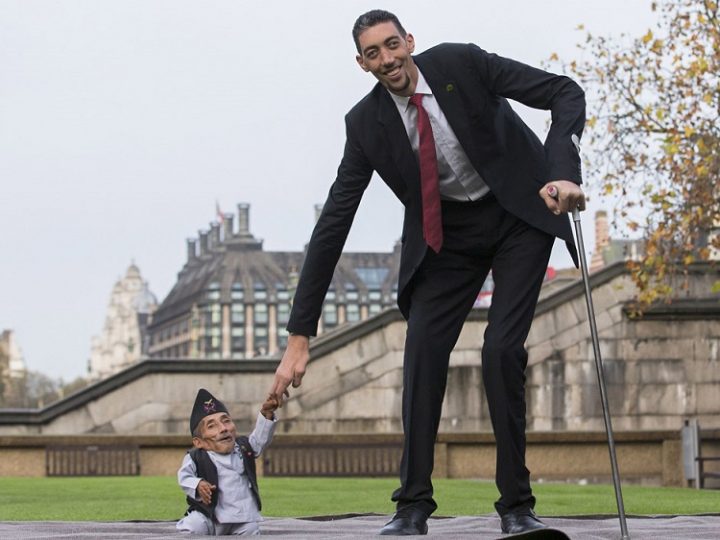 Brahim Takioullah of Morroco
Takioullah is 246 cm tall which makes him the second tallest person in the world alive. He also holds the record of having the largest feet in the world among those alive!
He was born on 26 January 1982 in the southern town of Guelmim. Brahim Takyallah grew generally until the age of 13 when his rapid growth started.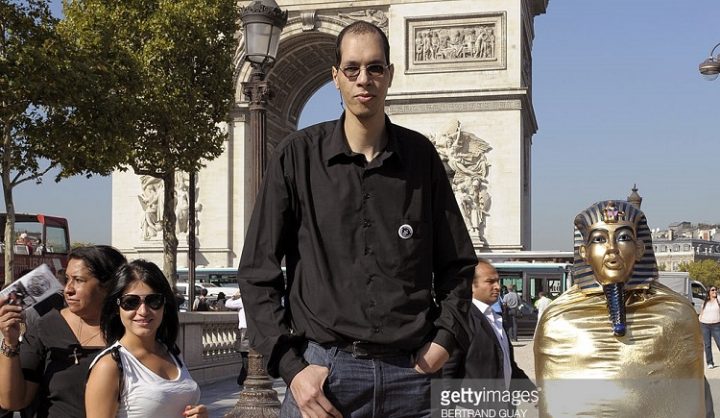 Morteza Mehrzad of Iran
Mehrzad is also 246 cm tall, making him the tallest man in Iran. He holds a Gold Medal at the sitting volleyball national team while he played at the Summer Paralympic Games held in Rio 2016.
His unusual growth started when he was 16 years old. He was 190 cm tall when he fell off a bicycle, and one his leg stopped growing. Now, one of his legs is 15 cm shorter than the other one.
Dharmendra Pratap Singh of India
The tallest living man in India, Singh, has a height of 246 cm. Dharmendra has poor eyesight, frequent headaches, diabetes, laxity of joints, and, of course, abnormally large extremities.
The disorder of Dharmendra is caused by a pituitary tumor that is making the gland continuously secrete the growth hormone. It is also putting pressure on his optic nerve. He is a poor man. With a height of 246 cm, his weight is only 70 kg.
Zhang Juncai of China
Having a height of 242 cm, Juncai is the tallest living person in China. He is 7 feet and 11 ¼ inches tall. On Nov 23, 2004, he was officially declared China's tallest man.
He stands 6 cm taller than Bao Xishun, who is China's second tallest man. He is 10 cm shorter than Sultan Kolsen who is the tallest man in the world alive.
Asadullah Khan of India
The 241 cm tall Khan is one of the tallest people in India. He has a height of 7 feet and 11 inches. He claims to be the tallest man in India. Once again, poverty plays a big game as he is seen doing laborious jobs in India.
This kind of special people needs government patronage and support. The government of India should step into the matter and set a stipend or scholarship for him.
Naseer Soomro of Pakistan
Soomro is 238 cm or 7 feet 10 inches, making him the tallest living man in Pakistan. Soomro is known as a renowned poet of the Sindhi and Urdu languages and is the author of five books of verse.
Naseer Soomro is an engineer by qualification. He has done his Bachelors in Engineering in Metallurgy from Mehran University of Engineering & Technology, Jamshoro Hyderabad, Sindh.
Bao Xishun of China
Xishun held the title of the tallest alive person under Gunnies World record till 2009. After that, Sultan Kosen had the very title. Xishun is 236 cm tall (or 7 feet and 9 inches).
Bao Xishun worked at the Chifeng City local hospital for several months. Bao suffers from rheumatism. Bao Xishun claims to have been of average height until he was sixteen. Bao served in the People's Liberation Army for three years.
Sun Mingming of China
Mingming once held the title of being the second tallest alive person. He, by profession, was an athlete who played basketball. He has a height of 236 cm or 7 feet 9 inches.
He was born in a small town near Bayan County, Harbin, in Heilongjiang Province, China. He has two siblings: a brother and a sister. He did not start playing basketball until he was 15 years old.
Radhouane Charbib of Tunisia
Radhouane Charbib was once listed as the tallest man alive in the world. He lost the title in 2005 when Sultan Kösen of Turkey took over the title of the tallest man in the world. He has a height of 7 feet and 9 inches.