Last updated on January 5th, 2020 at 12:03 pm
If you have an STC SIM card, you must be eager to know how to check the STC (Sawa) balance of the main account as well as data or internet account by dialing a number or a code. We have also explained how to check your STC number below.
How to check STC Balance?
STC balance check code
In order to do check Sawa balance, you need to dial the code *166# on your mobile screen, the system will check the balance and display it on your computer screen.
In order to check STC Internet balance, you need to dial the number *888*5# on your mobile screen and the system will tell you about your remaining data.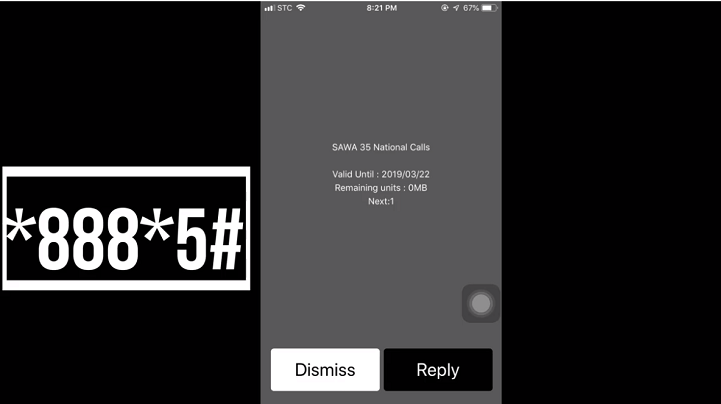 Check STC balance with an SMS
The second way to check the STC balance from your mobile phone is to send "balance" in an SMS to 900. Later, you will receive a message from Sawa containing the remaining balance. 
In order to check the Sawa internet balance, you can send a blank SMS to this number 2220. You will receive a message containing the number of remaining MBs in your STC account.
Check balance through Application
The third way is to install the STC Application in your mobile through the STC PlayStore or the STC application on iTunes.
Once the application is launched, you need to register your account there with your mobile number. After that, you just need to open your application to find out the STC internet balance or the main balance of your account.
Call Helpline
The fourth and perhaps the most difficult way to do STC balance inquiry is to call 900 from your STC connection. The IVR or the customer service representative will check and tell you the remaining STC internet or data balance as well as the balance of your main account.
What is the code to check the STC mobile number?
In case you have forgotten your STC number and want to find out your phone number, you can either dial the code to check STC mobile number or call their helpline.
The easiest way to check your STC phone number or data SIM number is to dial *150# from your phone number, the mobile screen will show your STC number immediately. Recommended: How to transfer the balance from STC to STC?