You can easily check the Mobily SIM balance, internet or data balance by dialing a code, sending an SMS, or by calling their helpline.
1st Method: Mobily balance check code
Dial the code *1411# on your mobile screen, the system will check the Mobily SIM balance and display it on your mobile screen. 
In order to check Mobily internet or data balance, you can dial the code *1411*1# on your mobile screen. The system will display the remaining internet balance on your mobile screen.
In order to check your pocket WIFI data balance, dial *1411*1# on your mobile phone. We should not forget that a pocket WIFI also works with a SIM.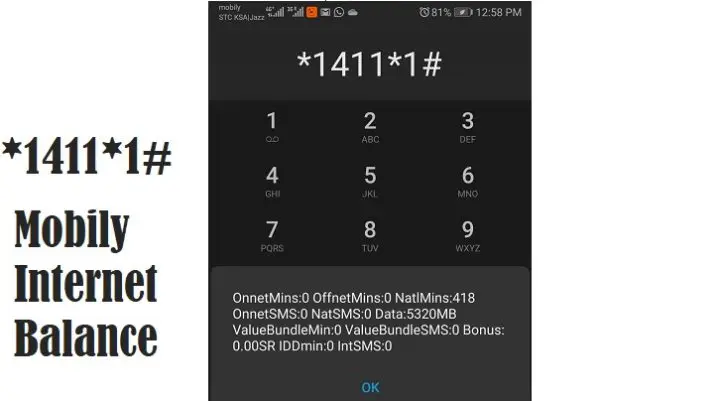 2nd Method: Check balance through SMS
The second way to check your SIM or Internet/Data balance is to write "1" in an SMS and send it to 1411. Later, you will receive a message from Mobily containing the remaining balance. 
3rd Method: Mobily Application
The third way to check your Mobily balance is to install the Mobily Application on your mobile. Once you register your account in the application, it would be very easy to manage all the Mobily services through the app.
4th Method: Call Helpline
The fourth and perhaps the most difficult way to check your balance is to call 1100 from your phone and dial 2. The system will tell you about your remaining balance.
For the latest updates, you can join our WhatsApp group or Telegram Channel.
Never pay the full price, join the Saudi Coupon Codes group and get sales updates and discount codes in one place.