Al Jouf and its major cities such as Sakaka, Domat Al Jandal, and Al Qurrayyat are full of historical places to visit which are loved by tourists.
What is the best time to go?
Al Jouf is situated on the north side of Saudi Arabia alongside the border of Jordan so the weather remains pleasant most part of the year. Even the summer season is not that hot. However, winter is quite dry and chilly.
Masjid Omer
After conquering the city Domat al Jandal, the second caliph of Islam Omar bin Khattab رضي الله عنه issued orders to build a mosque here. Therefore, this Masjid is named after him.
The Masjid is around 1,300 years old which makes it a heritage site and a must-visit tourist place in Al Jouf. Dumah is the name of one of the sons of Prophet Ismail عليه السلام who was born around the 18th century BC (4,000 years ago).
Maarid Castle
Maarid castle was built in the first century of A.D by Nabataean. Khalid Bin Waleed رضي الله عنه captured the ruler of Duma named Ukaidir during the third expedition. He took along an army of 420 riders to conquer Duma.
If you are a tourist who has a little bit of interest in Islamic history, you should not miss visiting this historical place in Al Jouf.
Regional Museum
Before you leave Domat al Jandal, you should visit its regional museum which is one of the best museums in Al Jouf region. It is a small museum with a modern design and a trip to this place is worth it.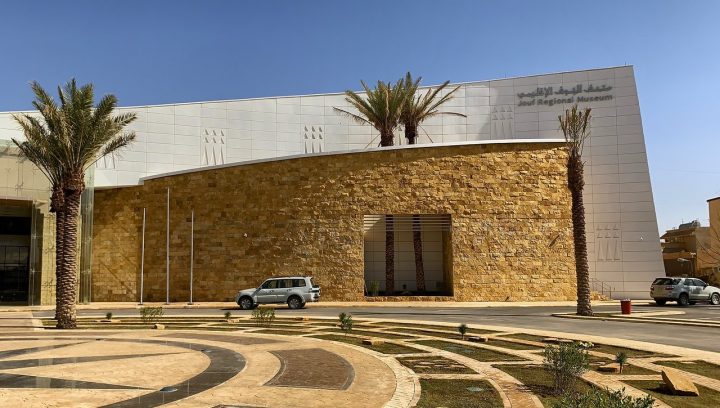 Domat al Jandal Lake
In the surrounding Domat al-Jandal, there is a beautiful eye-catching natural lake that was used for irrigation purposes. It is also a picnic spot where you can bring your family and friends and ejoy the beautiful view and the cold wind.
Agricultural Fields
Al-Jouf is the most fertile agricultural region of Saudi Arabia and there are thousands of circular crop fields in this region. A trip to Al Jouf region would not complete without visiting at least one of these agricultural farms.
Zaabal Castle
Zaabal castle was built around 200 years ago at the top of a mountain in Sakaka, the capital of Al Jouf province. During your visit to this historical place in the Al Jouf region, you can have an exotic view of the whole city of Sakaka.
The fort comprises 4 towers and has a well-built reservoir. This water well system that is beneath the castle is used to supply water to the entire city.
Sisra Well
The construction of the Sisra well dates back to the 1st century A.D when it was built by Nabataean in Sakaka. The 2,000 years old Sisra well was used to provide water for irrigation purposes to the entire city.
Rajajil Columns
The pillars of Rajajil are the oldest archaeological site (4,000 years B.C) in Al-Jouf that consists of 50 groups of upright stone columns called Rajajil. Some historians believe that these pillars (Rajajil) may belong to a  religious temple.
It is called Rajajil because it resembles a man in his appearance if seen from a distance and therefore tourists love to visit this historical place in Sakaka, Al Jouf.
Al Khanafah Wildlife Sanctuary
If you are a tourist who wants to explore the wildlife of the desert and love hunting, visit Al Khanafah Wildlife Sanctuary in Al Jouf. It is a huge area with almost no facilities so better go well-prepared.
Al Saidi Castle
Al Saidi castle located in Al Qurrayat is one of the oldest archeological sites of the Al Jouf region which dates back to the Nabatean period (at least 1900 years old).
In the Nabataean era, the castle was used to protect caravans heading from Al Hijr to Petra. Later, in the Islamic era, the castle was used to protect pilgrims on the way to Makkah.
Al Saidi Castle Location.
Kaaf Palace
Prince Nawaf Al-Shaalan built Kaaf palace in 1919 and could live there only for 2 years until he died. In 1925, this palace was handed over to King Abdul Aziz.
Harrat al Harrah Conservation
Harrat al Harrah Conservation is a beautiful volcanic reservation. Tourists who are interested in deserts, geology, or just massive open natural spaces should visit the conservation in Al Jouf.
It is advised to go with 2 cars (4X4) and plenty of extra gasoline. There are not many gas stations and sand can lead misguide you no matter how good the driver is.
Other places in the region