Hazrat Maryam عليه السلام – Mary the mother of Prophet Isa or Jesus was a chosen one of the Allah Almighty. She is the only virgin lady on the earth who gave birth to a child.
In the Quran, there is a complete chapter over Hazrat Maryam عليه السلام Not only this, she is the only woman whose name is mentioned in the Quran. Do you know where was she born? Where is her grave?
The birthplace of Hazrat Maryam
The church St. Anne Church located in Jerusalem, Palestine is constructed at the same place where Hazrat Maryam عليه السلام was born.
Parents of Hazrat Maryam
She was born in a highly respectable and pious family. Her parents did not have any children until their old age when they were blessed with Maryam. The names of Hazrat Maryam عليه السلام  parents were;
Mother:

Hannah bint Faqudh.

Father: Imran ibn Mathan.
Imran ibn Mathan died before the birth of Hazrat Maryam عليه السلام and Hannah bint Faqudh raised her with great devotion and care.
Maryam was devoted to Bayt Al Maqdis
Hannah bint Faqudh devoted her daughter Hazrat Maryam عليه السلام to Bayt al Maqdis. It is narrated in the Holy Quran too. She was given under the guardianship of Prophet Zakariya عليه السلام.
But when she delivered her, she said, "My Lord, I have delivered a female." And Allah was most knowing of what she delivered, and the male is not like the female. "And I have named her Mary, and I seek refuge for her in You and [for] her descendants from Satan, the expelled [from the mercy of Allah]." – Quran 3:36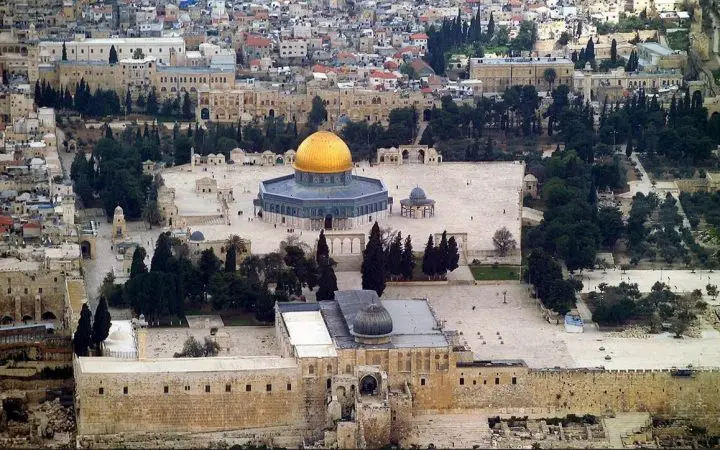 The Chamber of Maryam
In Masjid al Aqsa, Hazrat Maryam عليه السلام was given a private chamber so that she could worship there. A small room that is just located in the southeast of the Masjid is said to be the chamber of Maryam.
Whenever Prophet Zakariya عليه السلام entered her chamber, he found different kinds of fruits there. When he asked the source, she said it came from Allah. Quran 3:37
The birth of Prophet Isa (Jesus)
Once an angel told Hazrat Maryam عليه السلام that Allah will bless you with a pure child. On this Maryam exclaimed that how can she have a child when she has not been even touched by a man, she is a virgin and how can a virgin give birth?
But it will happen as it is easy for Allah and Allah have made them a sign for the rest of mankind. The matter has been decided by Allah and this shall happen. Quran 19:16-21
It is believed that Prophet Isa عليه السلام was born at a place where we have the Church of Nativity today in Bethlehem. The distance between the chamber of Hazrat Maryam عليه السلام and the birthplace of Prophet Jesus is around 10 km.
The grave of Hazrat Maryam
The grave of Hazrat Maryam عليه السلام is located near to the old city of Jerusalem. Her tomb now rests in the church which is located at the base of the Mount of Olives, close to the old city of Jerusalem. She died virgin and unmarried.