By Law, Non-resident persons (tourists) can claim a refund of the VAT paid in Saudi Arabia at Jeddah, Riyadh, or any other airport. We have explained the rules, entitlement, and procedure below;
VAT Refund Claim Rules
Everyone be it a tourist, pilgrim, family visa holder, Iqama holder or Saudi National has to pay 15% VAT on their purchases. This amount is treated as an expense for the end-users.
However, as per Article 70 of the Saudi VAT implementation guidelines, non-resident people such as tourists are allowed to claim a refund of the VAT;
Within 6 months from the end of the calendar year in which VAT was paid.

The goods are not used and are being taken by tourists outside Saudi Arabia.

No Tax Refund for certain goods and services as explained below.

Minimum VAT refund:

SR 1,000.
Requirements
In order to claim the VAT refund at Saudi Airports, non-resident people have to submit the following along with their application;
Name of the Supplier.

VAT registration number of the Supplier.

Invoice Date.

Invoice Number.

Total Invoice Amount.

VAT amount.

Original VAT invoice itself.

IBAN of your international bank account.
No VAT refund on Services
As per Article 50 of the VAT implementation guidelines, non-resident people cannot claim a tax refund for the following items;
Entertainment, sporting or cultural services.

Catering services in hotels, restaurants, and similar venues,

Purchase or lease of motor vehicles.

Fuel.

Repair, alteration, maintenance, or similar services.
In easy language, you cannot claim a VAT refund on the services.
Claiming it at Saudi Airports
Although the rules for the VAT refund have been given in detail, the Saudi government has not yet launched the counters at Jeddah, Riyadh, or any other airport to claim the tax. Therefore, tourists cannot claim VAT refunds at any of the Saudi Airports as of now.
An announcement for establishing the VAT counters at airports was made by the Saudi Authorities in 2017 but it is not yet done.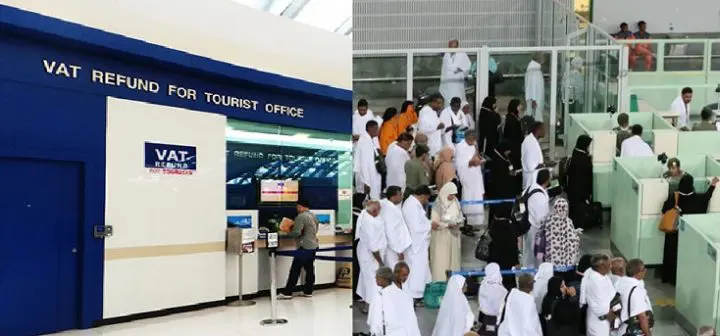 Payment
If the claim is approved either partially or in full, the Authority will make the payment to the bank account indicated by the tourist in the application within 60 days of issuing the notification.