Two foreigners/expats can get married if they are in Saudi Arabia on an Iqama or visit visa. Here is the detailed process.
Who can get married in KSA?
Anyone with a valid visa and a Saudi SIM issued in their name can get married in Saudi Arabia which includes;
Iqama holder.

Dependents of an Iqama holder.

Family Visit Visa Holders.

Tourist Visa Holders.

Hajj and Umrah visa holders cannot get married in KSA.
Marriage Official Search
If you are a foreigner or an expat, I would urge you to find a marriage official (sheikh) who would fill out your application, fulfill other requirements and complete the process of getting married in Saudi Arabia.
Open this link.

Select the city you want to convene your Nikah.

The MOJ website will give you the list of marriage officials.

You can call them to check if they can speak the English language or how difficult/easy it is to communicate with them.
Saudi Arabia's marriage requirements
The marriage official will require the following information to fill out the application form on the Ministry of Justice website; 
Saudi SIM cards under the name of each of the bride, groom, and 2 witnesses.

Iqama copy for residents.

Passport copy for tourists or visit visa holders.

Iqama copy of the two witnesses.

The amount of Mahr.
Fill out the Marriage Form
The selected marriage official will create a marriage contract through the Ministry of Justice website to get married in Saudi Arabia;
Once the marriage official fills out the application online it will take a few days for the information to be verified and then text messages will come to all 5 sim cards asking to confirm within 24 hours.
Once confirmed by all 5 then the marriage official can complete the process and the marriage contract can be issued electronically
The formal Marriage
You can request the Sheikh to come to your hotel or any other place to convene the marriage/Nikah. Make sure that the following people are available there.
Groom.

Bride.

2 Witnesses.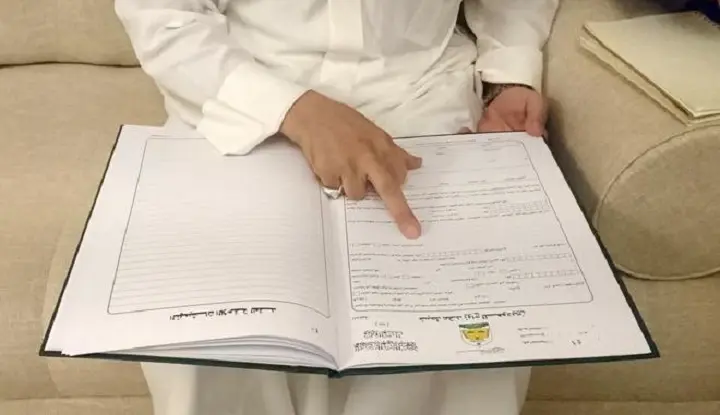 Experience: The sheikh was able to come to our hotel and did the nikah there. He called my wife on the phone and confirmed that she wanted to get married (men and women were in different hotel rooms) and asked me the same question. After that was done, he confirmed the nikah was complete.
We paid him SR 2,000 for the entire process. You may agree with him on the price before starting the process.
The marriage certificate
We received a PDF of the marriage contract. In order to use your marriage certificate in a foreign country, make sure to do the following attestations;
Transfer sponsorship
Once you are done with this, you will have to go through the process of "Transfer of Wife's Sponsorship to your Name".