If you have already registered a complaint to STC, Mobily, or Zain, you can escalate it to CITC using the complaint number. The complaint is lodged in two steps;
Requirements
Complaint Number registered with mobile company.

Access to Nafath account.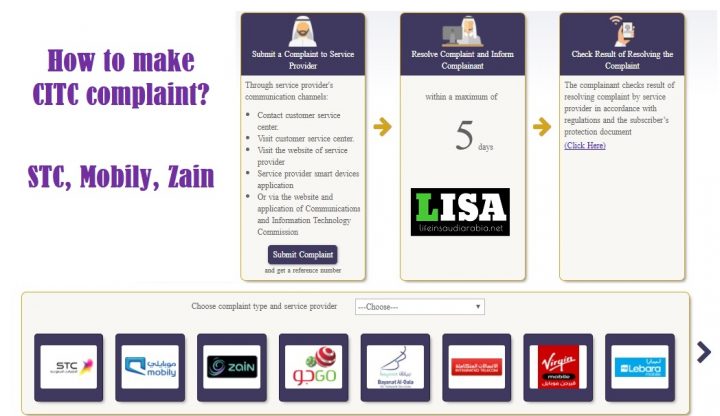 Step 1: Submit the complaint
First of all, you need to make a complaint to the mobile phone company you are using before raising it to CITC. The easiest way to make the complaint is to call their helpline numbers;
STC Helpline: 900.
Mobily Helpline: 1100.
Zain Helpline: 959.
Lebara Helpline: 1755.
Salam Mobile Helpline: 1101.
Virgin Mobile Helpline: 1789.
Red Bull Mobile Helpline: 950.
After submitting the complaint, make sure to note down the complaint number as it would be required by the CITC to escalate the process.
Step 2:

Escalate the complaint to CITC
If no action is taken by the mobile company within 5 working days, you can escalate the complaint to CITC. Here is the process;
Open the CITC website.
Scroll down and click on "Individuals".
Click on the "Start Service" button.
Enter your Iqama Number.
On the next screen,
Select the mobile company.
Was the ticket presented to the service provider? "Yes".
Ticket on behalf of someone? "NO".
Type of Client: Individual.
Select your Mobile Number.
Enter the ticket number received by the mobile company.

Select the type of Ticket e.g. Low Level of Service.

Describe the details of the service.

Click on the Submit button.
CITC Number
Keep in mind that there is no other way or number to lodge a complaint to CITC against a mobile company such as STC, Mobily, or Zain.
CITC Helpline Number: +966-11-4618000.