Your Iqama contains 12 important details or information out of which one is the date of birth. You can check the date of birth on the Iqama card, through Absher or Tawakkalna application.
Date of Birth on Iqama card
Line number 7 on the Iqama card is the date of birth in the Gregorian calendar.
The date of birth should match with the Date of Birth written on your passport.

Just like the name and number on Iqama, if your date of birth is not matching with your passport, you should return your Iqama for rectification.
Check DOB on Absher
In order to check the date of birth on Absher;
Login to your Absher account https://www.absher.sa/

Click on three icons on the right side of the page

Select "Dashboard" from the drop-down menu.
Now you can check the Hijri

Date of Birth

given below your picture.
You can use the Hijri to Gregorian converter to convert this date.

Check Date of Birth with Tawakkalna
You can also check your date of birth registered in Saudi official records on the Tawakkalna application. In order to do it;
Click on the "Dashboard" tab.
On the next page, you can check the Date of Birth in the gregorian calendar.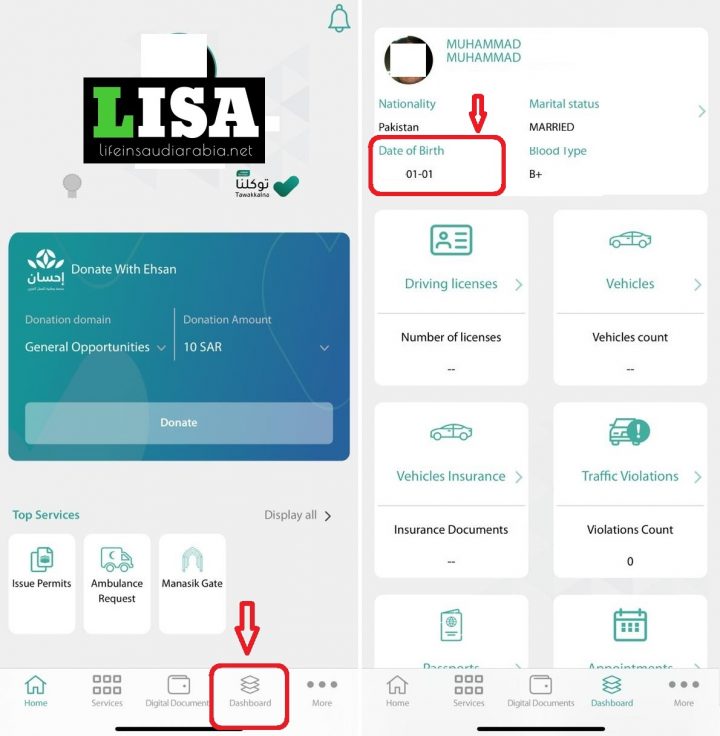 Change Date of Birth on Iqama
In order to change the Date of Birth of Iqama, the government relations officer of your company will have to;
Book Jawazat Appointment with the option Resident Services.

Fill out the following form to change Iqama information.

Point 9: تغيير تاريخ الميلاد

Point 10: Old Date of Birth.

Point 11: New Date of Birth.

Submit it to Jawazat.

Take a new print of the Iqama.