Now you can compare and get the cheapest third-party or comprehensive car insurance in KSA through the Tameeni website. Here is the process;
Get Cheap Car Insurance
In order to compare car insurance prices and get the cheapest one in Saudi Arabia,
Step 1: Register with Tameeni
Open: https://tameeni.com/
Click on the Menu bar given on the left hand.
Select "Login" from the options.
Click on "Sign Up here".

Enter your Mobile Number, Email, and Password.

Click on the "Sign Up" button.
Step 2: Add Policyholder
At this stage, you will be required to add the policyholder details;
Click on "Purchase New Policy".

Select the type of Insurance;

TPL = Third Party Liability Insurance.

Comprehensive Policy.

Click on the "Add Policyholder" button.
Enter the Iqama Number.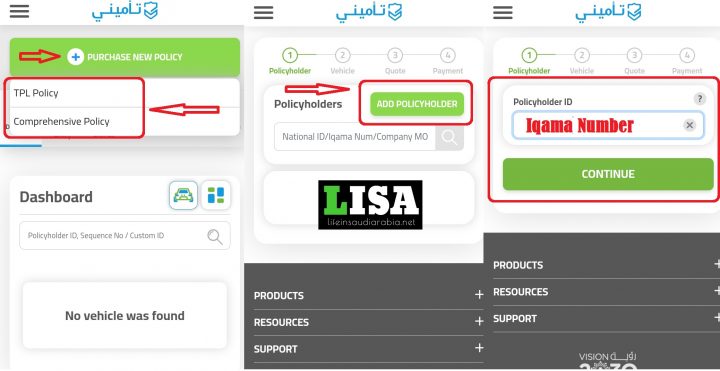 Step 3: Add Vehicle Details
Now you need to add vehicle details to get the cheapest car insurance in KSA;
Vehicle Identifier: Registration Card.
Sequence Number: Vehicle Sequence Number.
Purpose of Vehicle: Private.

Policy Effective Date = Start date of the policy.

Click on "Vehicle Drivers" if you want to add a second driver.
Step 4: Compare the Quotes
Tameeni website will fetch you all the available insurance quotes;
Sort by Price Ascending.

Select the cheapest insurance company in KSA for third-party insurance.

Explore the insurance coverage and compare it with the price if buying comprehensive insurance.

NCD Discount: Car insurance discount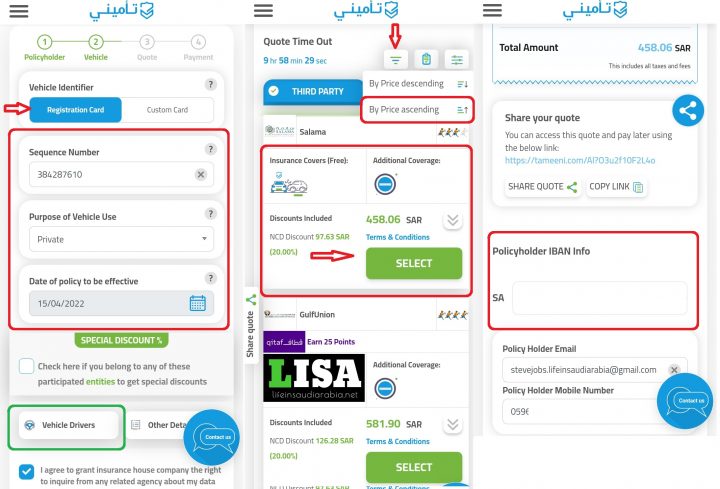 Step 5: Make the payment
In the last step, you need to;
Enter your IBAN Number.

Proceed with the payment.
In case of early termination of the insurance policy, the amount will be credited to this bank account.
Types of Car Insurance
There are 2 kinds of car insurance in Saudi Arabia i.e. third-party insurance and comprehensive insurance.
Third-party insurance
In third-party insurance, you ensure the car of the other party of the accident. In case of an accident, your insurance company will pay the other party for the accident caused by your mistake. Your car is not covered by the insurance.
Comprehensive Insurance
In comprehensive insurance, the vehicles of both parties are covered by the insurance. With this type of car insurance in Saudi Arabia, the insurance company will compensate both parties for the loss if the accident is caused by your mistake.
Deductible Choice
The deductible choice in the comprehensive insurance means that in case of any claim, the amount mentioned in the deductible clause will be paid by you. Change the deductible amount and see the impact on the overall price of the insurance.
Claims not covered by comprehensive insurance
Although comprehensive car insurance covers both parties of the accident, as per SAMA guidelines there are 5 claims not covered under it if;
The car is used for the purpose not allowed by the manufacturer e.g. a passenger car is used for the transportation of heavy equipment.

The car is driven on dangerous roads.

The damage is caused by racing.

The accident is caused by crossing the red signal camera.

Driving in the opposite direction.