As per the new policy in 2023, only a few airlines in Saudi Arabia can carry ZamZam water from Jeddah, Riyadh, or Dammam Airport.
Saudi Airlines ZamZam Policy
At Saudi Airlines, each passenger is permitted to carry 5 liters of Zamzam water at no additional cost on their international flight from Saudi Arabia except at Jeddah Airport.
The water bottle must be packed by the ZamZam water factory. You can buy it from any grocery store or from the airport itself.

You cannot carry manually filled ZamZam water bottles.

The water bottle must be sealed with a plastic sheet.

Zamzam water bottles are not allowed to be placed inside the checked-in baggage.

Source: Saudi Airlines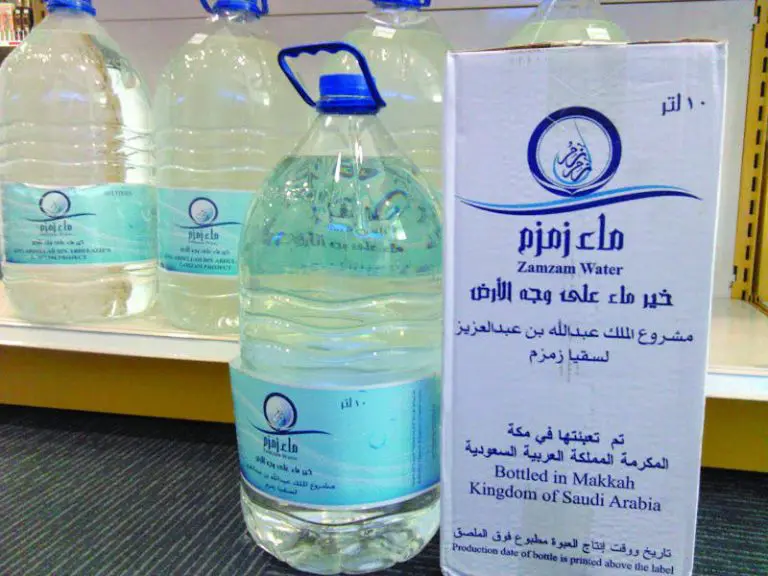 Carrying ZamZam water from Jeddah Airport
Only Hajj/Umrah visa holders can take ZamZam water from the new Jeddah Airport i.e. King Abdulaziz International Airport (all terminals). This restriction is applicable on Saudi Airlines as well as all other airlines traveling from Jeddah.
Taking ZamZam from Riyadh/Dammam Airport
Almost all the airlines including Saudi Airlines, FlyNas, FlyaDeal, PIA, Air India, Emirates Airlines, Qatar Airways, and Gulf Air allow passengers to carry one 5-liter ZamZam water bottle from Riyadh and Dammam airports to their home countries.
Taking ZamZam water inside the luggage
In a recent move, the General Authority of Civil Aviation (GACA) has prohibited all commercial airlines and privation aviation to carry any kind of liquids including ZamZam water inside the checked-in luggage.
Referring to Article 23 of the Civil Aviation Law, GACA stated in its circular that all airlines departing from Saudi airports shall not allow passengers to carry liquids (ZamZam packages) inside their checked-in luggage. However, you can take it following the process described below.