As per the new policy in 2022, only a few airlines in Saudi Arabia can carry ZamZam water from Jeddah, Riyadh, or Dammam airport.
Saudi Airlines ZamZam Policy
Saudi Airlines ZamZam water policy allows passengers to carry 5 liters of Zamzam water as a part of their free allowed checked-in baggage with the following terms;
The water bottle must be packed by the ZamZam water factory. You can buy it from any grocery store or from the airport itself.

You cannot carry manually filled ZamZam water bottles.

The water bottle must be sealed with a plastic sheet.

Zamzam water bottles are not allowed to be placed inside the checked-in baggage.

You cannot carry ZamZam water from King Abdulaziz International airport Jeddah Terminal 1.

Source: Saudi Airlines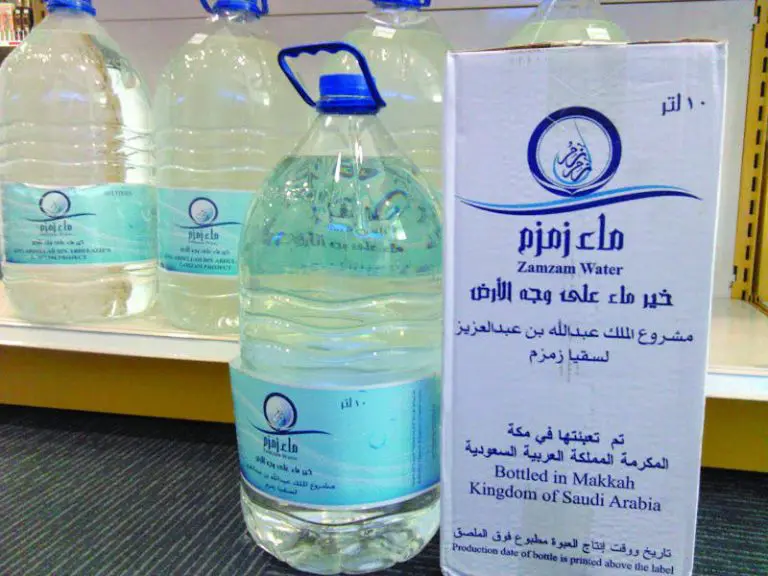 Carrying ZamZam water from Jeddah Airport
You cannot take ZamZam water if your flight is departing from the new Jeddah Airport i.e. King Abdulaziz International airport Terminal 1. It is important to note that all the major airlines are traveling from the terminal 1 such as;
Saudi Airlines.

FlyNas.

Emirates Airlines.

Qatar Airways.

Gulf Air.
The passengers traveling from Jeddah Airport North Terminal are still allowed to carry ZamZam water as checked-in baggage taking into account the ZamZam policy explained above. The flight operating from the Jeddah North terminal are;
PIA.

Air Blue.

Serene Air.

Most of the African Airlines.
You can call Jeddah Airport at 920011233 to confirm the terminal of your flight.
Taking ZamZam from Riyadh/Dammam Airport
Almost all the airlines including Saudi Airlines, FlyNas, FlyaDeal, PIA, Air India, Emirates Airlines, Qatar Airways, and Gulf Air allow passengers to carry one 5-liters ZamZam water bottle from Riyadh and Dammam airport.
Taking ZamZam water inside luggage
In a recent move, the General Authority of Civil Aviation (GACA) has prohibited all commercial airlines and privation aviation to carry any kind of liquids including ZamZam water inside the checked-in luggage.
Referring to Article 23 of the Civil Aviation Law, GACA stated in its circular that all airlines departing from Saudi airports shall not allow passengers to carry liquids (ZamZam packages) inside their checked-in luggage. However, you can take it following the process described below.