Many people do not know that you can get a copy of the Holy Quran during your trip to Saudi Arabia for free without paying any price.
Taking Quran from the shelves
Many pilgrims make the mistake of taking a copy of the Holy Quran from the shelves of Masjid al-Haram in Makkah or Masjid al-Nabawi in Madina for their personal use, it is not allowed.
Brother, no matter how much you love to have a souvenir with you from the most loved Holy place in the world, you should not ever think of removing a single thing from there even though if you find a suitcase full of money, all that which is lying there belong to the Haram and not to be removed from it.
Getting a copy of the Quran for free
While visiting Madina, you can go to King Fahd Quran Printing Complex as at the end of the tour, they award you with a free copy of the Quran or Tafsir (if available).
Quran Printing Complex location. 

Quran Printing Complex Timing: 8 am to 12 pm (Sun-Thur).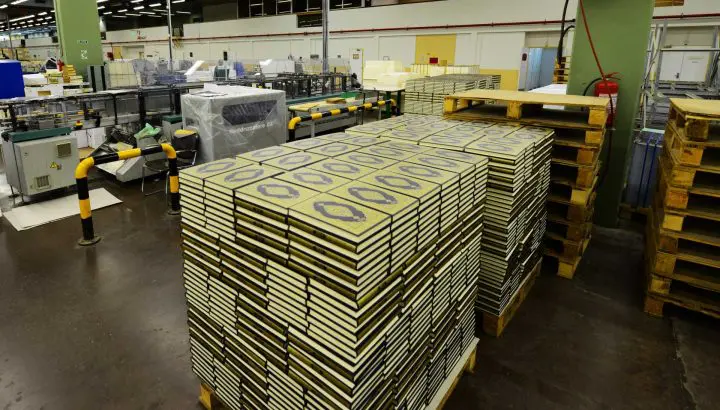 In Makkah, if you enter through King Fahd Gate in Masjid al-Haram, there is a counter for free distribution of the Holly Quran and other useful religious books. 
Placing a copy of Quran in Makkah/Madina
Some people buy copies of the Holy Quran and put them on the shelves of Haram Makkah and Madina for the sake of Thawab. They believe that they will get a reward when others will recite these copies.
Quran Price in Makkah: SR 25.

Quran Price in Madina: SR 20.
However, the staff of Haram is required to remove all these copies from the shelves. Only those copies of the Holy Quran which has a stamp that they are dedicated to Haram will remain there.
According to a report published in the Saudi Gazette, 9,000 copies of the Holy Quran are pulled out from the Masjid al-Haram and Masjid al Nabawi on a daily basis.