A metro city bus service has been launched in Riyadh which connects all important districts and places in the city. Here is how to buy Riyadh Metro City Bus Tickets online.
Riyadh Bus Ticket Price
Here are the important terms and conditions you need to know before booking the ticket;
Riyad Bus Ticket Price:  SR 4.
Ticket remains valid for 2 hours after the activation on the bus.

You can use the bus ticket on any route as long as the ticket is valid.

No tickets for children under 6 years old.

5

0% discount for anyone under 18 years or above 60 years old (details given below).
Download Riyadh Bus Application
Install Riyadh Bus Application either from PlayStore or Apple Store.
Click on the "Individual" icon.
Select "Register" option.

Enter your personal information such as first name, last name, phone number, email address etc.

Enter all your details and create an account.

Activate your account through email. 
Buy the ticket
After creating the account on Riyadh Bus Application;
Log in to your account.

Tap on the "Tickets" page from the bottom menu.
Click on the "Purchase a New Ticket" option.
Select "2 Hours Pass".
Pay the fee of SR 4.
That's it, you have bought the Riyad Metro city Bus ticket online.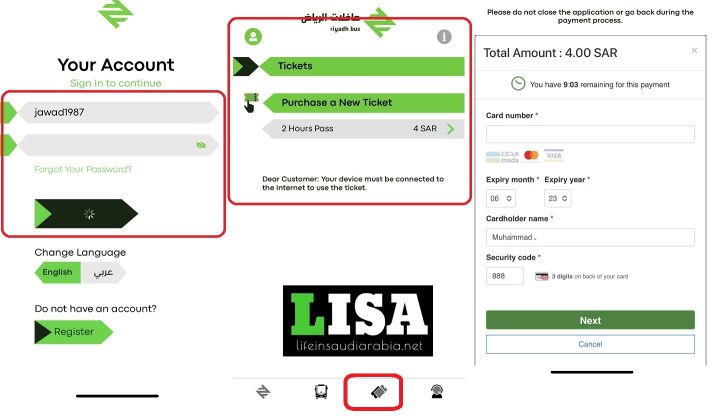 Buy a Darb Card
If you are not comfortable in buying the ticket online, you can buy a "darb" card from the ticket vending machine or ticket sales office. The "darb" card is a reusable digital wallet you buy once for SR 10, and you add funds to it at the same machine.
How to get a 50% discount?
The following people are eligible to apply for a 50% discount on the ticket price at Riyadh Metro City Bus;
People under 18 years old.

Senior Citizens over 60 years old.

People with Special needs.

Cancer Patients.

Families of Martyrs.
Visit the Ticket Sales Office at Ali Bin Abi Taleb Street Station and provide the necessary proof of eligibility (official documentation is required for concession card application). The Ticket Sales Office is open from 05.30 am to 11.30 pm every day.
Important Details
Riyad Bus Customer Care: 19933. The Riyadh bus Customer Care is operational from 07.30 am to 02.30 am every day.

Eating or drinking is not permitted on the bus.

There are designated family seats at the front of the bus.

Buses are equipped with a wheelchair ramp.

Pets are not allowed on the buses (neither in cages nor leashed).