Saudi Airline is the best airline in Saudi Arabia when it comes to providing facilitation to its customers. Once again, they have come up with a unique idea. We know that Riyadh Airport is far away from the city.
In Jeddah, people go to the Airport 9 hours before the flight timing to book their luggage, get the boarding passes and come back to homes. It was too difficult to even think about it in Riyadh due to heavy traffic on the roads as well as the distance of Airport from the city.
But now with the improved services of Saudi Airlines, you can book your luggage and get boarding passes without visiting Riyadh Airport.
You can book your luggage to the city terminal in the heart of Riyadh. City Terminal is located at the SAUDIA building on the eastern ring road between exit 14 and exit 15.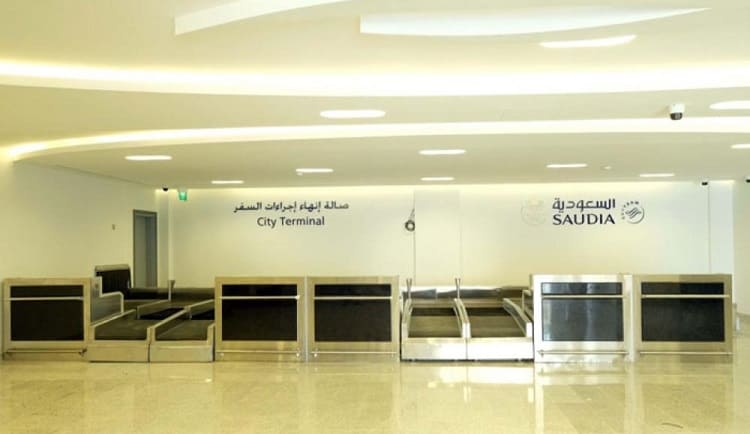 If you want to book your luggage through city terminal in Riyadh, you need to book it at least 6 hours before the departure time. They will not accept your request after that.
However, it is important to mention here that this service is only available on International Flights of Saudi Airlines except for flights to the United States.
Make sure you are taking passports of all the travelers there. They will issue you baggage coupons as well as boarding cards. After this, you don't need to be on Riyadh Airport 3 hours before the departure time as required by the Airlines.
You can go there 1 hour before the departure time and move towards the immigration counter straight away. You will find your luggage at your destination airport.
The porter service is also available at the City Terminal situated at the SAUDIA building. So don't worry even if you have luggage more than the luggage you can handle alone. You can pay some bucks to the porters and they will assist you there.
SAUDIA City Terminal Offices normal working hours are from 10 am to 6 pm. However, working hours during Ramadan are as follows;
Morning: from 10:00 till 17:00

Night: from 21:00 till 02:00 after midnight
It is important to mention here that you can issue your boarding pass from Saudi Airlines website online so there is no need to visit their office just to issue your boarding pass. 
Please share your experience of booking your luggage at Riyadh City Terminal. If you want to add some information, don't hesitate to drop a comment below.