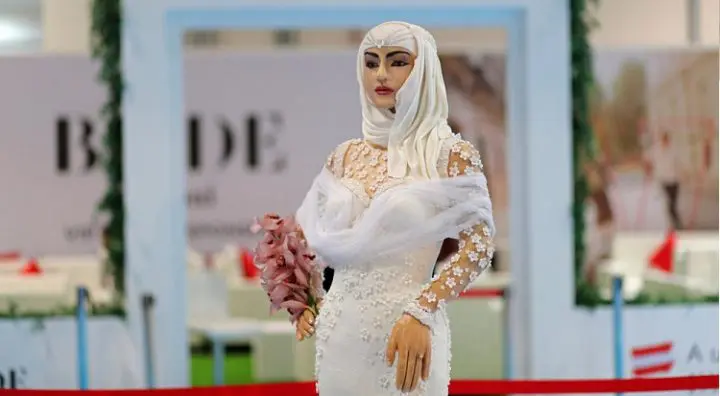 A chocolate and diamond bride cake was displayed during the Bride Dubai exhibition in Dubai. It was reported that the bride cake worth one million U.S dollars.
The cake was made by Debbie Wingham in five days. Debbie Wingham is a 36 years London based designer who has earned a reputation for making many World's expensive objects among which some were edible too like cakes.
Debbie Wingham made this 120 kg cake to present at the Dubai Bride Show. The cake was modeled on a traditional Arabic bride. 120 kg chocolate cake contained 50 kgs of fondants and about 25 kgs off chocolate for frosting and sculpting its face and upper body, her arms, and hands to give it the shape of a bride.
It was dotted with five white diamonds, and each diamond cost $200,000. Thus the cake earned the name "The Million Dollar Bride"
According to Debbie Wingham, the diamond she got was actually borrowed from one of her UAE based clients and the cake was prebaked in Raffle Dubai and it took 5 days to complete.
Debbie Wingham said, nobody actually believed that it was a cake. In fact, this bride cake is just like a good living being for me. I gave her a name Lulwa (pearls in Arabic).
She said she has been influenced by the middle eastern culture and to inspire the middle eastern people, I made this wedding cakes and tried to achieve something through my exciting talent.
She said most of her work is based on realism and she feels happy when people like and appreciate it. This is not the first time Debbie Wingham made a life-size premium cake.
She had experienced it a lot of times and one of her work was the World's most expensive cake that worth 48.5 million pounds, besides this her work include a black diamond dress of 3.5 million pounds, a pair of shoes worth 11.5 million pounds and a red diamond abaya that cost 3.5 million pounds.
No doubt to say that the wedding cake was amazing to see and the work was to be appreciated, but when this matter and the picture of the cake was discussed on social media people shared a different opinion and every one has something different to say.
Some appreciated it while some said it was a waste of money and May Allah guide the Muslims to stay away from the World desires.
One of the users said people in the war-stricken area are dying of hunger and unavailable medical facilities and we are presenting million dollars cake just to satisfy ourselves.
Some said all the ingredients in the cake like flour, eggs, chocolate, baking powder, etc doesn't cost million dollars. This is false to say it a million Dollar cake. Only the Jewels cost million dollars.
Many reacted saying instead of spending money on these useless things it will make you feel much better if the needy are helped by your money. While one of the Users went too aggressive and said these things are destining Arabs to doom.
Source: Khaleej Times
Get Latest Updates: You can join our WhatsApp Group to get the latest updates and news from the website.