'The lesser you know the better it is!' Have you ever heard this? If you obviously you'll have to rethink if you agree with this phrase because today I've brought you a compilation of the sixteen lesser-known wonders of Jeddah in the Kingdom of Saudi Arabia that usually go unnoticed.
In today's I'll be guiding you along just the right type of destinations that will leave you in awe at the beautiful architecture and views. Jeddah is known as the 'bride of the Red Sea' but with very few tourist sites. However, after reading today's read you'll surely find yourself wanting to visit at least ten of them.
Khalil Museum: On the top of the list is Tabiyat City situated in Jeddah which is the largest Museum in the city. Jeddah is one of those cities which have experienced different revolutions, handled by different rulers and several civilizations all which contribute to the city's history and culture.
Al Tabiyat City Museum is mainly for international civilizations been exhibited. There are many museums in Jeddah but this one particularly stands out. This is a Museum that resembles a mini-city within itself.
It has an area of ten thousand square meters, having twelve separate buildings with nearly three hundred complex rooms which make it known as 'Jeddah's Louvre'. This Museum is thought to be situated in the older part of the city near Balad but it's actually situated in the modern city in Faisaliyah District around Siteen Street.
You can search it on Google Maps with the name of "Khaleel Museum". Recommended: A Visit to Al Tayibat City Museum in Jeddah GPS Coordinates: 21.580847,39.176698
Salman Khaleej Beach: On number two we have Salman Khaleej Beach. This location describes properly where the desert meets the sea. This is probably one of the best beaches along this incredibly long coast between the still-developing Buhairat City and Resort Durrat Al Uroos.
The Beach stands out from the rest because of being barren, rugged and extremely breathe taking. This beach has a constant low tide where the waters retreat for miles giving it a very splendid view. This is taken as a day trip situated fifty kilometers north of the city. GPS Coordinates: 21.841815, 38.986420
Buhairat City: Next up at number three is Buhairat City itself which are also known as Jeddah's very own palm Islands. This is an ideal mini city which was constructed and now reclaimed that would see from space.
The layout showcases a shape of a leaf at its center, topped off with an inverted crescent with many fronds exhibiting adjacent coast forming a breakwater. This was the reason for many projects like Durrat Al Uroos and Durat Ul Bahrain.
However, this project did not receive the appreciation it rightfully deserved. GPS Coordinates: 21.8297414, 39.0221715
Hayat Market: On number four is Hayat Market. This is a commercial center that stays abandoned for merely thirty years or so. It stands isolated in Azizia District.
They say time has stopped there because you can see signboards, cars, and buses all that date back to the 80's! What adds to the spookiness of this area is the children playing area with rusted metal, broken and shattered windows, unit signboards etc.
It is said that this building is haunted so no one even tries to go there. However, if you are adventurous, just visit this place next Friday. GPS Coordinates: 21.5475958, 39.212324
Ottoman Fort, Usfan Fort: On number five is the unexplored Ottoman Fort, Usfan Fort. This was built by the Ottomans nearly centuries ago. This is located in the north of the city around sixty kilometers north of Jeddah.
This fort stands on top of a small hill from where you can view a vast and open desert. It was built as a resting area for the pilgrims in the north. GPS Coordinates: 21.916297, 39.3399834
Moon Valley: On number six is the very famous Moon Valley which eye opener mountain formations that leave one in shock! This is located close to the Usfan. These rock formations date back to thousands of years.
This place has beautiful views which make it very popular amongst Jeddah residents. Usually, they come here for camping. If you do come by here make sure you do not miss out the sunset view! GPS Coordinates: 22.046436, 39.478017
Briman Junk Yard: Number seven is Briman Junk Yard. Now you would probably be surprised that how can visit a car junkyard be fruitful. Well, this one of the largest Car junkyards in the entire Arab World.
This is very famous amongst car owners and those who have a special interest in vehicles. This place can be used to get counterparts at a very cheap price.
However, this is closing down in a few years once the airport will be constructed and then it will be shifted to Usfan so make sure you visit it before that. GPS Coordinates: 21.614306, 39.234625
Eastern Forest: On number Eight is the Eastern Forest. This is a green project by the Saudi Authorities for covering up a nasty Musk Lake which was once used for Jeddah's sewage disposal.
Nowadays, however, the tables have turned and residents of Briman and Al Ajwas visit here to spend the Weekends. This area has nearly 160 different kinds of trees. However, make sure you have a good ride because the roads aren't at all stable. GPS Coordinates: 21.640036, 39.362811 
Al Fahad Shipwreck at Shuaiba: Following this on number nine is the Shipwrecks at Shuaiba. The beach at Shuaiba becomes a very popular getaway from the hustle and bustle of the week which is located just near the city of Al Lith.
There have been nearly three shipwrecks along this coast dating from 1997 to 2004. This is mostly common amongst photographers who wish to capture shipwrecks. Recommended: What is Al-Fahad Shipwreck in Jeddah? GPS Coordinates: 20.802017, 39.425578 
Royal Palace of King Abdul Aziz, Khuzam Palace: On number ten we have the Royal palace of King Abdul Aziz, Khuzam Palace. This is a magnificent palace which is known as a haven of serenity built completely in Traditional and historical Arabian Architecture. It is built with glass and concrete.
This palace is one of the oldest buildings of Jeddah and yet one the lesser known wonders. However, now only a few parts of this Palace remains, with the rest being modernized containing a large Islamic Bank, a picturesque mosque, a large water reservoir, a university and an Olympic-size swimming pool.
Although the palace's most notable areas still stand that include the King's residential area, the grand palace gate along with the Royal Court. GPS Coordinates: 21.475001, 39.209077
King Saud Mosque: Next up on number eleven is King Saud Mosque which is the largest mosque situated in the city of Jeddah. This was designed by Abdel-Wahed El-Wakil. This mosque is made entirely of bricks which cover an area of 9,700 square meters.
It has a layout similar to the Great Mosque of Espahan thus exhibiting architectural influences from Persia and Egypt! Recommended: Top 10 Most Beautiful Masjids of Jeddah GPS Coordinates: 21.522261, 39.182722 
South Corniche: Next up on number twelve is South Corniche which does not receive a lot of visitors compared to its northern part that has a lot of them.
It is located around thirty kilometers south of Jeddah where the Corniche is not spoilt, used for swimming filled with numerous islands. GPS Coordinates: 21.243376, 39.140015 
Saudi Airlines First Aircraft: Followed by this on number thirteen is the Saudi Airlines First Aircraft which was firstly situated on the Tayyara Roundabout on the Sabeen Street. However, now it's situated inside the Price Majed Park on Thamaneen Street.
This was the first aircraft by the Saudi Airlines that was started by the king of the time in the hope of beginning air travel in the States of Saudia Arabia. GPS Coordinates: 21.589142, 39.183630 
Bait al Naseef: Number fourteen here is Bait al Naseef which is truly a tucked away real gem, this stands as a proof for Jeddah's former glory and rise. This is situated in the historical district of Jeddah which will never go un-noticed!
This was constructed way back in 1881 by a Turkish Architect for a wealthy merchant family which now serves as a museum and cultural center. Before it's conversion to a museum, it was a Library that comprised of nearly sixteen thousand books.
This building redefined the architecture of Jeddah and spread Hejazi culture far and wide. Also, it was a temporary residence for the founder of Saudi Arabia, King Abdul Aziz. GPS Coordinates: 21.484389, 39.187400
Pink Lake: If you are through with Architecture visit the Salt Lake which isn't like the other lakes. There is a noteworthy level of salt in this lake which is situated in the north of the city.
This lake, however, is quite shallow. The beauty of this is that when the water levels recede one can stand in and see the abundant and beautiful salt crystals sparkling the entire area. GPS Coordinates: 21.876582, 39.016118 
Souq Alhamam: Finally on Number sixteen is Souq Alhamam that is a bird market where every Friday the south of the city is filled with the voices of Bulbul's, pigeons, roosters and certain poultry.
This is one of the biggest markets for birds and reptiles in the Arab world. The market showcases rare birds and poultry that are brought in from several of the worlds and sold out in auctions.
The animals are not found at zoo's and are taken care of at farms and then sold every week. I hope after putting all of this Tourist Guide for you, you won't let my words go to visit and give these less renowned places a visit! GPS Coordinates: 21.378667, 39.224661
Al Shallal Theme Park, Jeddah, Makkah Province:  If you search online for family based entertainment opportunities in Jeddah, you will be ultimately lead to the Al Shallal Theme Park.
Even for those who have been living in Jeddah for a few years, this theme park is not common knowledge. Recommended: Al Shallal Theme Park Jeddah – an Oasis in Desert GPS Coordinates: 21.568062, 39.111108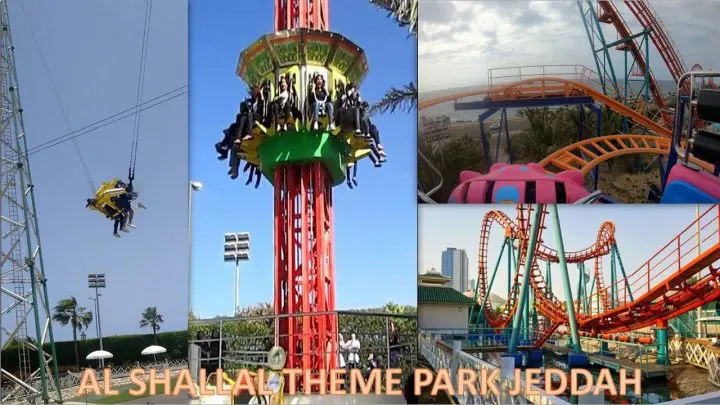 King Fahad Fountain Fountain, Jeddah, Makkah Province: The King Fahad Fountain is also known as the Jeddah Fountain and is the tallest fountain in the whole world. This fountain was created in 1980 and raises the water to about 260 meters or 853 feet above the sea level.
This magnificent view can be easily seen from anywhere in Jeddah city. The fountain uses the salt water from the red sea and does not waste fresh water. Recommended: World's Tallest Fountains – Jeddah Fountain at No. 1 GPS Coordinates: 21.515639,39.145068 
The Bab Makkah of Jeddah: As the sun sets and the heat breaks down a bit, the open air market springs into action bringing with it a lot of activity. One such market which has a great historical importance as well as in the area of Baab Makkah, which is also known as Makkah Gate.
The limestone coral boundary wall which was once part of the Baab Makkah may no longer exist; however, the magnificent and breathtaking gate still stands strong with only a hint of repair and reconstruction as many tourists are attracted to this great gate. Recommended: The Bab Makkah of Jeddah – Old but Charming
Fakieh Aquarium Jeddah: Fakieh Aquarium just doesn't promise to provide fun but also to be of some educational use for children.
It is huge and it is stunning! Moreover, it is kept clean and tidy and also well maintained. It is situated on the Sari Street of the Jeddah Corniche that has Red Sea coastline in the middle. 
Durat Al Arous, Jeddah: Durat Al Arous is an amusement village located in the North of Jeddah which is mainly for tourists so basically it's a tourist village.
There's nothing that would not be in Dural Al Arous for instance, schools, cafes, coffee shops, hotels, resorts, theme parks, a golf club, an equestrian club, recreation parks and a yacht marina. Recommended: 4 Special Things to do in Durat Al Arous, Jeddah
Al Balad City, Jeddah: Al-Balad is the Heritage part of the largest city of Saudi Arabia, Jeddah. Al Balad when translated means "The City" and after taking into account what this city actually has to offer, it is truly the city!
Al Balad was founded in the Seventh Century which in beginning served as the city center of Jeddah. 
World's Tallest Flagpole in Jeddah: I'll be giving you some facts about the world's tallest flagpole situated in none other than Jeddah, Saudi Arabia!
Over the years the city of Jeddah has been on top of the tables for holding various records during the early 80's but as the neighboring Middle Eastern countries began to stabilize, Jeddah was unable to uphold in that field. Recommended: 9 Facts about World's Tallest Flagpole in Jeddah, Saudi Arabia
It took me days to collect all this information just for you people who feel that there are only very few places in Jeddah to visit. What I need from you is to share this information with others. Share it on your Facebook wall; share it on twitter and by word of mouth. I think I deserve this at least.
Get Latest Updates: You can join our WhatsApp Group to get the latest updates and news from the website.