Eating out is the biggest and most frequently celebrated activity for families in Saudi Arabia. If you are in Riyadh and looking for some Pakistani restaurants, here are the top 10 best picks for you/=.
BBQ Tonight
BBQ Tonight is one of the oldest Pakistani restaurants in Riyadh. People of Riyadh can also dive into authentic Pakistani food being offered by BBQ Tonight.
It is one of the most famous restaurants in Riyadh, with great food, ambiance, and price! Moreover, do try their Buffet which is available only on Friday!
Grill N Rice
Grill N Rice surely knows how to win your heart with delicious food. I have seen none dissatisfied with their food. They offer authentic sub-continental food such as BBQ, Handi, shinwari, Gola Kabab, and those Roghni naans!
They offer a clean and profound ambiance, competitive prices, and delicious food!
Red Chilli
If you are looking for a Karachi type of taste in Riyadh, there is no Pakistani restaurant better than Red Chilli. My verdict is that they offer the best Paratha rolls: the tastes take you back to Pakistan! 
They are offering variety in their menu ranging from BBQ, Rolls, Pakistani Style Pizza, Karachi-style Zinger Burger, Club Sandwich even Halwa Puri!
Lahori Khabay
Lahori Khabay is one of the most renowned Pakistani restaurants in Riyadh. As the name suggests, it will take you back to the mouthwatering taste and food of the lively city of Lahore!
They offer the best Buffet! If you go there, do try their Lahori Tandoori Chicken, Chicken Tikka, Steam Roast & Kabab.
Biryani King
What started as a small restaurant, is now a famous Pakistani restaurant in Riyadh. Biryani King offers authentic biryani all the way from Karachi. The balance of spices is on the spot!
In addition to this, try their nihari and other traditional Pakistani food! If you want to see how famous they are, visit them on weekends and you will be amazed!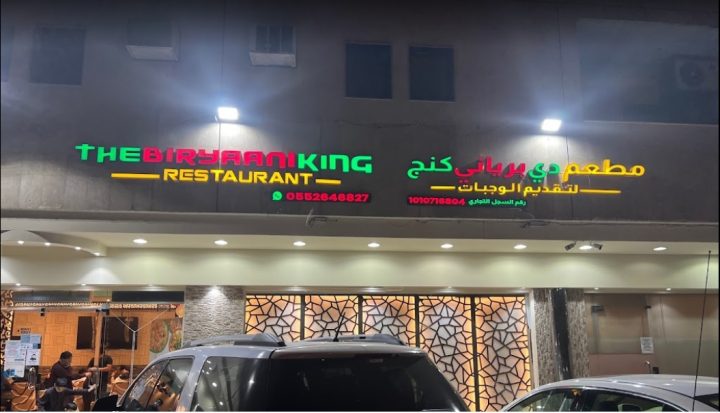 Lahori Village
Well, I love the way they have improved their ambiance over time. Their food has always been a delight, but what they lacked was the ambiance, which is great now!
Their prices are also reasonable as compared to the food and quality they serve. Do try their breakfast as they know how to make your mornings delightful!
Karachi Biryani
If you are a real foodie, you know that Karachi offers the best biryani in the world! And Karachi Biryani is now offering the best biryani in Riyadh!
They started as a biryani and palao station but now have added a number of traditional Pakistani food to their menu. Their nihari and karahi are also great in taste!
Roll.Khi
Another great Pakistani restaurant in Riyadh giving away quality food and authentic taste is Roll.Khi. Rolls are the star of the restaurant yet they also offer Pakistani street food such as bun kababs!
Sweet N Spicy
One of the best restaurants providing authentic Pakistani food taste in Riyadh is Sweet N Spicy. They have a great ambiance, friendly staff, quality food, and are friendly on the pocket. 
It is a great place to give your friends/family a treat as they will love the food and it won't cost much! Do give a try to their Daal Makhni and Madrasi Handi!
Nirala Fish & Sweets
Nirala offers the best breakfast in town! And believe me, they have a unique taste in their naans and chickpeas! Their menu items are limited, but they are a class apart! So do try their Pakistani authentic food!