People who come to Madina from all around the world want to buy a Saudi-style Abaya from here. Here are some of the markets and best shops to buy an Abaya in Madina. We have covered from low-range to high-range Abayas.
Abaya markets in Madina
There is a small Abaya market in Madina which is accessible to all pilgrims when they leave Masjid al Nabawi from Gate 22. You will find these shops around Madina Hilton Hotel. However, keep in mind that these shops will offer low-quality of Abaya.
If you are ready to spend a higher price for a better quality Abaya, visit Al-Rashid Mall, there are many Abaya shops there. In fact, 3 of the shops mentioned below are in that mall.
Eastern Abaya House Company
If you are looking for a cheaper Abaya, this is one of the best shops in Madina. They have very good and trained staff. The staff would pour in all the variety until you are satisfied.
You can see the latest abaya trends here. The matching head scarfs make the day. Young ladies who are looking for trendy and stylish abayas shall defiantly visit them! Their prices are also reasonable. You can find cheap to expensive abayas from here.
Black for Abayat
If you want to be greeted and hosted by great staff, then this is the best place to buy an Abaya in Madina. The place is filled with trained female staff who is there to help you to find the "kind of abaya" you are looking for.
At this place, you have variety and the best prices. You should look on to them for discounts and special offers as you can grab your favorite abayas at reduced prices.
Tamaray
Tamaray is located at Rashid Mall and has the most stylish abayas with the finest quality in Madina.  Their price is on a bit higher end but they do not compromise on quality.
We know pilgrims who bought some Abayas from Tamaray and came back again to buy more on their next Umrah trip.
Bedoon Essm
If you are looking for modern and stylish Abayas in Madina, Bedoom Essm is the best shop in this niche. They do not offer traditional Saudi abayas available everywhere else.
Bedoon Essm is in huge demand among young Saudi girls and therefore, its prices are way more expensive than other shops listed on this page.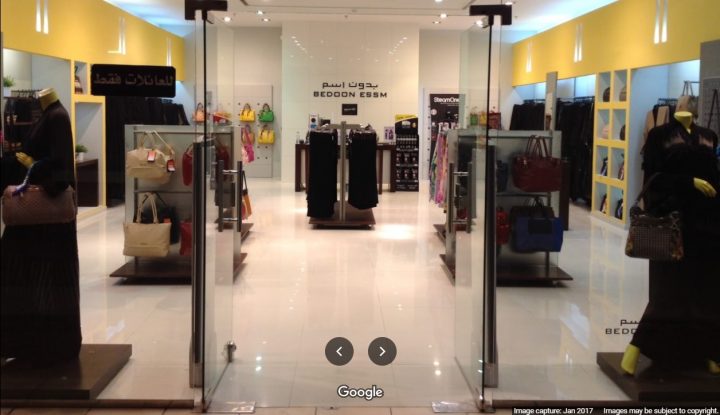 Center Point
Even though this is not an "exclusive abaya shop" they have a nice variety of colorful gowns which can be used as Abayas. You can get a stylish, trendy, and comfortable abaya at a reasonable price for yourself.