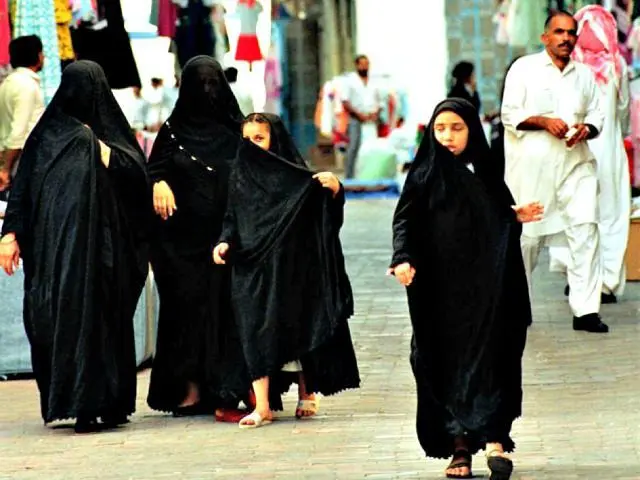 Dress Code for Women: Decency is all they ask for. One of the major concerns about Kingdom of Saudi Arabia is a dress code.  There is this specific dress code for women and they have to follow it, be it Muslims or non-believers. Women are expected to wear an Abaya; which is a long black dress covering your entire body with a scarf covering your head. This norm is followed throughout the Kingdom just except in Jeddah at times the Mutawas (HAIA or Committee for the Promotion of Virtue and the Prevention of Vice) don't really complain about your head covered with a scarf but yes, the Abaya over there is still compulsory. Who takes care of all this?
The Mutawas (HAIA or Committee for the Promotion of Virtue and the Prevention of Vice) wear brown gowns and are usually equipped with a wooden baton. If they find you improperly dressed then they beat the stick on the path in front of you and then politely inform you where you went wrong. See this is the best thing I like about them and about Kingdom of Saudi Arabia that people's feelings are valued and understood over here.
Dress Code for Men: The decent dress code for men is anything but long covering your hand and legs unless you are on the beach. As far as some kind of jewelry is concerned, it is disliked by people men wearing jewelry of any sort as they believe that it is more feminine than masculine. Especially avoid wearing gold and silk as these two things are forbidden in Islam for men and if you wear these two things then don't expect a good response from your surroundings.
Alcohol consumption in Kingdom of Saudi Arabia is forbidden so for the non-believers you better leave this habit home and come here. I have published a separate article upon "Drinking Alcohol in Saudi Arabia"
Thirdly for the men, I believe that never, I repeat never show off that your culture is better than ours.  You shouldn't ever get into an argument with someone stating that there is no other culture like yours. At one point if you think your culture is better from any other culture then I would appreciate, in fact, all of us would if you could keep your thoughts within yourself because trust me one thing you don't want to get into over here is a cultural debate.