Every employee working in KSA is entitled to get fully paid annual leave every year. In this article, we have explained the annual leave calculation formula, and the provisions related to vacation/salary pay and leave encashment in Saudi Arabia.
Vacation Salary Calculator
Annual Leave Calculation
According to Article 109 of Saudi Labor Law, a worker is entitled to the following annual leave or vacation;
21 days if service tenure with the employer is less than 5 years.

30 days if service tenure with the employer is more than 5 years.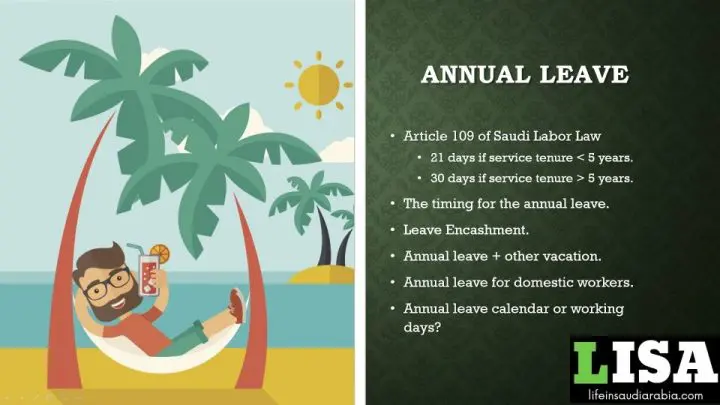 For example, if an employee is leaving on annual leave after completing one year in a company in Saudi Arabia, his vacation pay/salary calculation will be the following;
Total Monthly Salary = SR 10,000.

Annual Leave Days = 21 days.

Leave salary calculation formula: Salary / 30 X Annual leave days.

Vacation pay calculation: 10,000 / 30 X 21 = SR 7,000.
It should be noted that the transportation allowance should also be paid to an employee leaving on annual leave as it is covered in "wage" defined by Article 2 of Saudi Labor Law.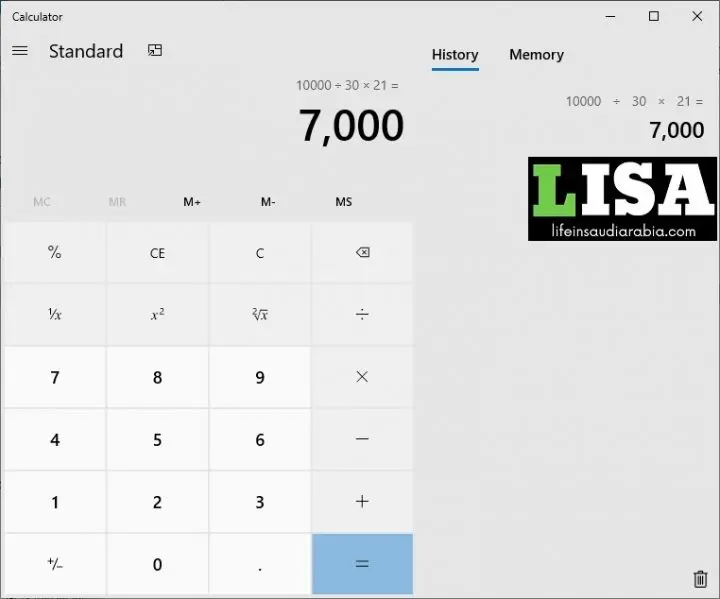 The timing for the leave
Article 109 and 110 of Saudi Labor Law state that the annual leave should be taken in the year of accrual. It means that an employee can go on vacation after 11 months of joining the company.
The employer has the right to schedule the annual leave of the worker as per the work requirement and notify him 30 days in advance. 

The employer has a right to postpone the annual leave for 90 days in the next year.

If the employer wants to defer the annual leave further, he needs written consent.

The annual leave cannot be postponed for more than one year.
Leave Encashment
Leave encashment refers to the payment of cash in exchange for leaves on the basis of gross salary. 
Article 109 of the Saudi Labor Law prohibits leave encashment during the service of the employee in Saudi Arabia.

Article 111 of the Saudi Labor Law allows the payment of wages in exchange for the accrued leave balance of a departing employee.

Article 2 of Saudi Labor Law defines the terms wages as total wages which include (basic salary + other benefits).
Annual leave + other vacation
Annual leave + public holidays
Public holidays such as Eid vacation should not be counted as annual leave as per Article 112 of Saudi Labor Law. For example, if an employee takes 30 days' annual leave in a month with the Eid occasion, he will get 30+4 days.
Annual leave + Sick Leave
According to Article 82 of Saudi Labor Law, an employee can join his annual leave with sick leave to take some rest.
Annual leave for domestic workers
Saudi Labor Law does not apply to domestic workers such as housemaid and house drivers. However, according to the rights of domestic workers, they are entitled to 30 days paid leave after two years of service.
Calendar or Working Days?
Is annual leave comprise of calendar days or working days? Well, Saudi Labor Law is silent about it. As per the general practice, employers award employees annual leave on the basis of calendar days in Saudi Arabia. 
Am I entitled to a transportation allowance?
Many employees are interested to know if they are entitled to the transportation allowance during annual leave? Saudi Labor Law required the employer to pay wages during annual leave.
The word wage has been explained in Article 2 of Saudi Labor law as total wages which includes the transportation allowance. Therefore, an employee is entitled to get the transportation allowance during the annual leave period.
Some Useful Calculators
Apart from the Vacation Salary calculator, we have produced some other useful calculators as well for your help.