You can open an ANB Telemoney account online and transfer funds to India, Pakistan, and the Philippines online at a low fee and quick timing. Here is the process;
Telemoney Account Opening Requirements
You can submit an application to open a Telemoney account online if the following conditions are met;
Opening a Telemoney Account
In order to open a Telemoney account online
Click on the "Open a Telemoney Account" button.

Agree to the terms and conditions.

Answer the 6 questions. 
Enter your Absher username and password on the Nifaz website.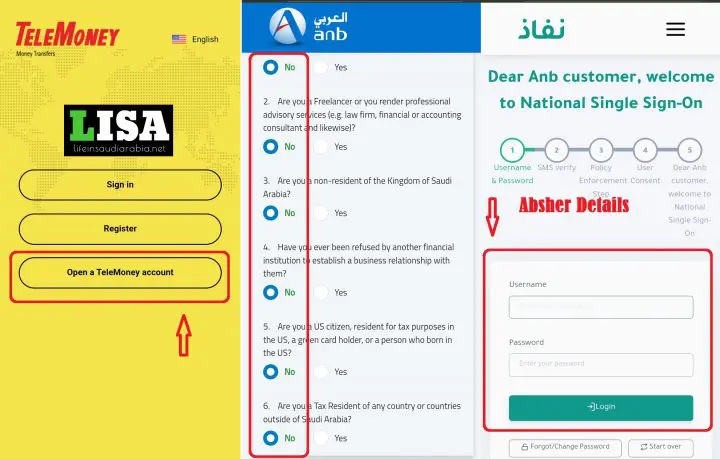 Step 1: Authentication
The system will show you all the personal information such as your name, nationality, Iqama number, and date of birth. You need to enter your;
Email address.

Mobile Number.
Step 2: Contact Information
On the next page, enter the information such as;
Marital Status:

Place of Birth

Additional Contact Information.
Step 3: Personal Finance Information
At this stage of the Telemoney account opening, the system will take the following information;
Purpose of Account Opening: Remittance Service.
Employment Status: Employee.
Sector: Private Employee.

Job Title: Select the most suitable profession from the list.

Employer Name: 

Date of Joining: 

Monthly Income: Salary.
Additional Income: None.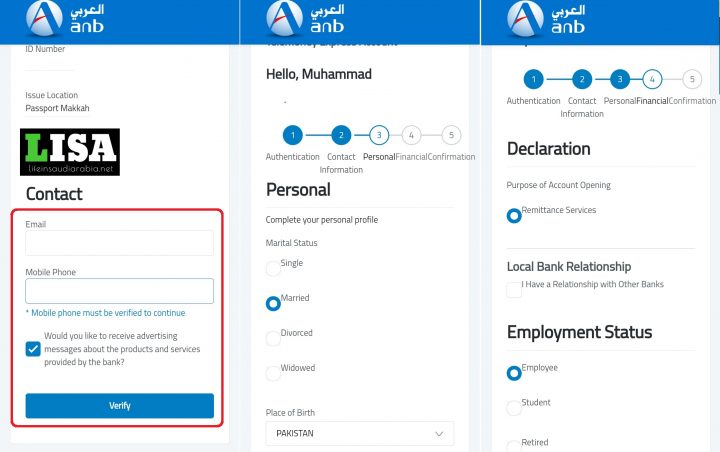 Step 4: User ID & Password
At this stage, you will be required to enter the password for your account.
Select the method you want your Telemoney ATM Card to receive.
Step 5: Account Confirmation
After successfully opening the ANB Telemoney account online, the system will show you the bank account details such as IBAN and account number. Please note them down at a safe place.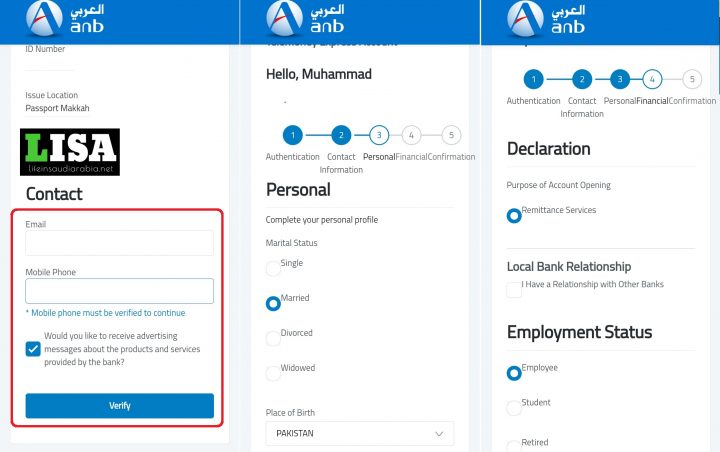 Add Beneficiary to Telemoney online
Once the account is activated, you can add an international beneficiary through the Telemoney application and transfer funds online.
Click on the "Sign in" button.
Username: Iqama Number.

Enter the Password.

Click on the "Transfers" option.
Select the "Add Beneficiary" option.
In the next step to add an international beneficiary to the ANB Telemoney account;
Click on "International Account".
Click on "Country".
Select the "Country".
Select the "Currency".
Enter the IBAN/Account number.
Review the details and click on "Confirm".
You will receive an automated card from ANB to confirm the activation of the Telemoney beneficiary. Now you can start transferring money to the activated beneficiary.